Why football fans have grown to love Burnley FC
They may not play the most stylistic brand of football, though Burnley Football Club are certainly winning hearts.
Image Via: Flickr, Burnley Football Club. CC BY 2.0.
Three things in life are certain, death, taxes and Burnley Football Club climbing up the table at this point in the season. Sean Dyche's Clarets sit in seventh in the Premier League, ahead of Arsenal, Manchester United and Tottenham Hotspur.
Burnley have been the model of consistency. They've never changed their style despite abuse from many quarters, never spent beyond their means in an ever-changing footballing landscape or never succumbed to the pressure and prematurely sacked their manager when staring adversity in the face. Dyche has now been at the helm for over seven years. The proof is in the proverbial pudding, I guess giving manager's time to implement their style and tactics actually works... Who knew, eh?
In the early Dyche days, opposing fans weren't best pleased with their style, though I guess that happens when Burnley sit back and frustrate, holding your side to a bore 0-0 draw - and often worse. Supporters lamented their hoof-ball, physical style due to it being rather dull to watch, but over time, you grow to appreciate what the Turf Moor outfit is doing; I know I certainly have. Being an ardent Manchester United fan, my Red Devils have been on the wrong side of Burnley's 4-4-2 hit-it-long and hope for the best strategy on more than one occasion. I remember Robbie Blake's brilliant volley ten years ago, and more recently Chris Wood and Ashley Barnes' two second-half goals to hold United to a 2-2 draw at Old Trafford back in January. The point is, this is a team that can get results against anyone on any given day. That has to be lauded.
Over the last three seasons, Burnley has turned into a reliable Premier League outfit. Without doubt, their exploits in 2017/18 were the highlight. Forcing their way into European football will forever live long in the memory of Clarets fans - though there's no doubt that played a part in their fifteenth-placed finish last term...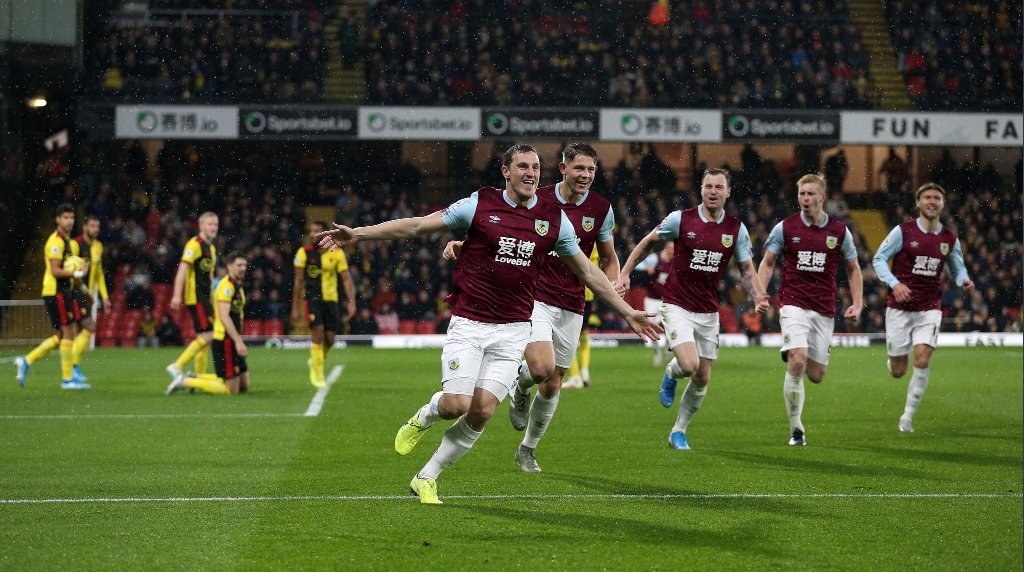 Burnley FC
- Ran by Burnley fans❤️
- Play to their strengths💪
- Had faith in Manager during relegation👇
- 3rd smallest wage budget in PL💰
- Made 5 New English Caps in last 3 Years🏴󠁧󠁢󠁥󠁮󠁧󠁿
- And got to Europe during all of this🇪🇺
Built, Not Bought. An Example for any club.
https://t.co/65eNYIcQKz
It's no coincidence that without trips far and wide across the continent, Burnley are back to their best. Back-to-back 3-0 wins against West Ham and Watford have propelled the Lancashire side back in European contention once again - and it's not like they heavily invested in the playing squad, either... Their *big-money* signing was Jay Rodriguez's Turf Moor return. He cost just £5million.
Burnley has always been a club built on having a solid foundation without any real superstars, though recently, there's an outstanding duo emerging; Chris Wood and Ashley Barnes. The pair are seemingly inseparable. Last term, both ended with thirteen goals apiece, right now they're both sat on six each. Their combination and link-up play is up there amongst the best strike partnerships in the country. Physically dominant, tough in the tackle, aerial threats and excellent finishers. It's a strikeforce that can hurt any defence up and down the country.
When you sprinkle in Dwight McNeil's creativity, Johann Berg Gudmundsson's natural talent, James Tarkowski's defensive prowess and Nick Pope's sublime shot-stopping, this is a squad that certainly deserves more credit in regards to their personnel. Again, it always comes back to the manager. Dyche is a leader. His players will jump through brick-walls for him and it's because his squad knows that the positive results will follow.
Burnley actually has a chance to move as high as fifth in the Premier League table this afternoon as they host Crystal Palace. No doubt, their fans are once again dreaming big...