Why Frank Lampard shouldn't take over as Chelsea manager this summer
Background Image Via: Lachlan Fearnley/Wikimedia Commons. CC BY 4.0.
Chelsea Football Club has always been synonymous with chopping and changing their managers like it's going out of fashion. Roman Abramovich has found a style of ownership that works for him and his beloved Blues.
However, the Stamford Bridge outfit find themselves entering into new territory with a two-window transfer ban. Chelsea won't be able to sign any new players until 2020's summer. The next twelve months require a change in strategy.
Maurizio Sarri and Chelsea came to a mutual agreement to part ways despite the fact that the Italian would win his first major trophy as a manager; the Europa League. It looked like he was starting to build something in South West London, but Abramovich decided to wield the axe once more. Like Sarri's constant smoking, for Chelsea and their Russian mogul, old habits die hard.
None other than Frank Lampard is on the verge of becoming Sarri's replacement at Chelsea. At a glance, it feels as though he'd fit like a glove. The 41-year-old has only been in management for one year, but his ideology is clear. Lampard wants to promote youth, he wants to give youngsters their chance, just ask Mason Mount, Harry Wilson et al. Super Frank has worked wonders for their career.
Timing-wise, it feels as though it couldn't be any better due to Chelsea's aforementioned transfer ban. The fountain of youth at Stamford Bridge is constantly flowing. Perhaps finally it's the time to reap the fruits of their labour in that regard. Should their own product of that mantra in Lampard be the man to fly that flag? In my opinion, probably not...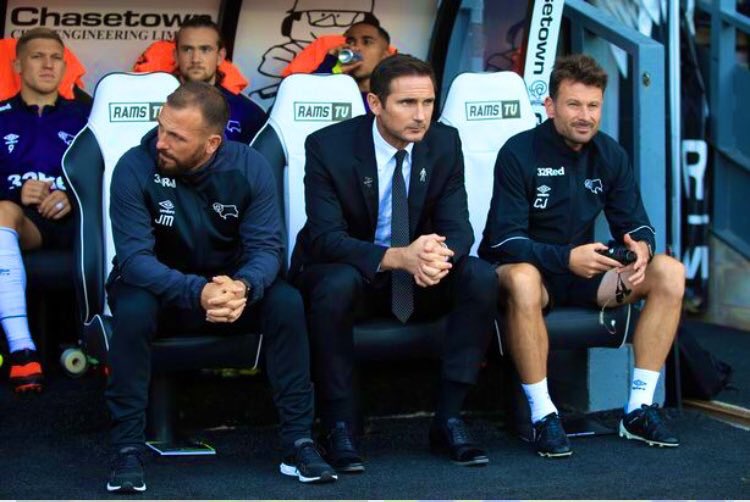 It's just too soon. Now I know you Chelsea fans out there are probably bored of reading that, but it's true. Lampard, for all his brilliance at Derby County, just isn't ready. The step up from Championship football to the business end of the Premier League is colossal. There's a reason why Mount and Tammy Abraham were loaned to England's second-tier, too, they're not at the required level either (yet)...
Quite frankly, it's nothing more than a pipedream that Lampard is going to arrive back home and utilise youth to propel Chelsea up the table. It's not going to happen overnight. What's the one thing he needs but simply will not get at Stamford Bridge? Time...
Look at Mauricio Pochettino at Tottenham Hotspur, it has taken him several seasons to nurture young talent and build his philosophy. Only last term did it begin to somewhat pay off, although the Argentine is yet to guide Spurs to their first major trophy under his guidance. Do you honestly think Chelsea are going to stop what has worked for them so wonderfully well over the last fifteen years?
What's most concerning to me is the legend status that could well be lost if things do go pear-shaped. Lampard is idolised by the Chelsea supporters, that will never completely go away but it could be tarnished. Look at what's happening over at Manchester United, sections of the fans are already calling for Ole Gunnar Solskjaer's head and he's not even had time to mould his squad into one that fits his image, either.
I just feel that Lampard would be best-served by turning this job down. Now I know that's easier said than done because he adores Chelsea and this opportunity may never come his way again, but there's far more risk than reward in this transaction. We've seen it before, even if you're successful, Ambramovich won't think twice about removing you from your position - just ask Roberto Di Matteo...