Why Gianluigi Donnarumma might never reach his potential with AC Milan
Gianluigi Donnarumma is a 19-year-old Italian net-minder with precocious talent. He is widely regarded as Gianluigi Buffon's long-term successor with Italy and possibly Juventus. But Buffon's shoes are bigger than even a 6'5" wunderkind can fill. Worse, Donnarumma isn't inspiring much confidence with his recent performances. Will his career trajectory culminate in legendary status at the San Siro, somewhere else or not at all?
It is a popular belief that keepers expend the least energy in a match. Tnhey could eat a burger while the game is on; just ask Wayne Shaw. Regardless, they are involved in the deciding moments of every match. Errors by the men between the sticks are like tattoos: easy to make, difficult to remove.
It goes without saying that goalkeepers, despite their limited obligations in football games, are required to be both athletic gymnasts and excellent match readers. Given their long career expectancy, it usually plays to the advantage of goalies who get into the limelight early. Especially in their teenage years. Gianluigi Buffon and Iker Casillas come to mind. More recently, Thibaut Courtois and David De Gea. There are many others. However, the most conspicuous and contemporary of the lot is Donnarumma. He is the youngest no.1 to appear for Italy and second youngest to make his Serie A debut. Only big things are expected.
Donnarumma shot into the limelight. He instantly had everyone's attention. AC Milan treated him like a mother treats a newborn infant. He repaid the gesture by delivering top-notch performances that belied his age. Then the saga began.
As spring 2017 turned into summer, the Rossoneri offered Donnarumma a contract extension. He said no. Not outright, but Milan fans went bananas. No parent enjoys the first time their child says no and Donnarumma was growing up fast. Failure to sign that extension meant Milan could lose him for nothing in one year.
The season wasn't on so fanatics didn't have the chance to vent their frustration in full voice. But the teenager was on international duty for Italy's U21s in the European Championships. During the match against Poland, supporters threw money at their stubborn young keeper. It didn't end there, the backlash via social media was relentless.
Donnarumma's agent, Mino Raiola eventually brokered a deal with Milan and his client signed a four-year contract extension. Regardless, the damage had been done. Fans had lost their faith in the keeper. They booed him at varying points in the season. The effect was glaring. Donnarumma just wasn't the same player for Milan anymore.
As is the usually the case when a goalkeeper has lost his head, gaffes and howlers followed. Once a defensive roadblock for the Red and Blacks, Gigi became a young version of Willie Caballero. Milan struggled to gain a foothold in Serie A, finishing sixth. There were other problems, but Donnarumma shipped 42 goals. A few were embarrassing.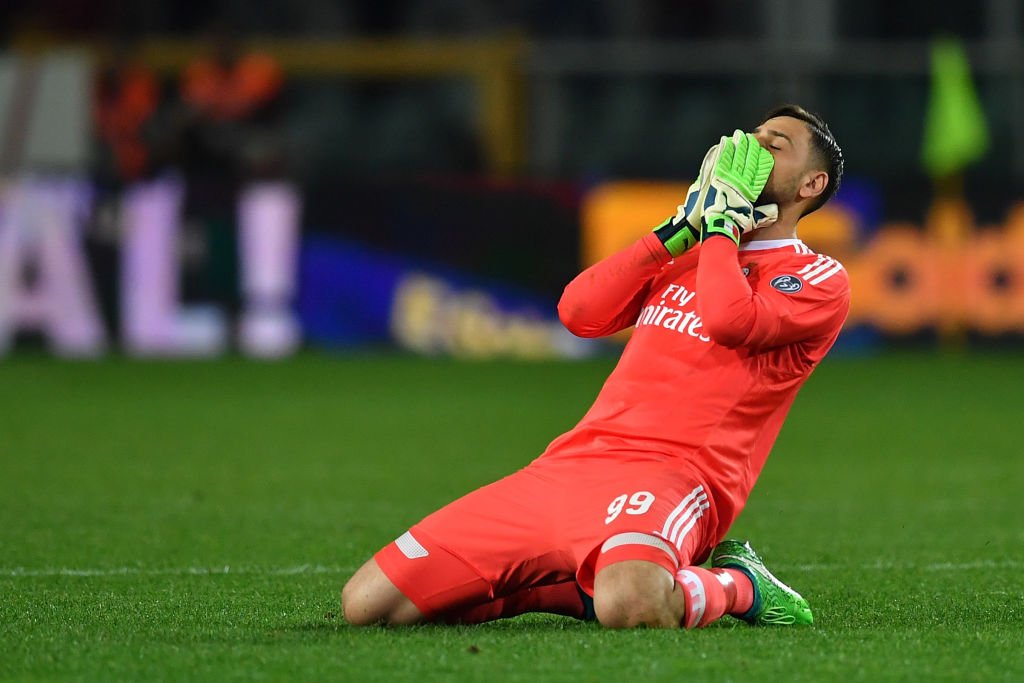 Guided by Gennaro Gattuso's antics, Milan reached the Coppa Italia final with a date against Juventus. It was their chance to win their first silverware in seven years. Unknown to them, their young keeper had saved his most horrifying mistake for that game. Donnarumma picked the ball from his net four times. On two of those occasions, he was directly culpable.
At this point, Milan's sporting director Massimiliano Mirabelli threw in the towel.
"If a good enough offer arrived, any of our players could be sold."
Gianluigi Donnarumma is still debatably the world's best young goalkeeper. He could go on to become an Azzurri legend. But AC Milan is not the club where he will achieve that. His head isn't in the game at the San Siro. It's time for a fresh start.