Why Granit Xhaka is not the culprit at Arsenal
Look at Ramsey; he's walking. Xhaka is walking. Ozil is walking. Don't walk. Don't walk at Wembley. Run. Look at Ramsey and Xhaka. Look at them walking back. Central midfield players.
These were the words spoken by Manchester United legend and former Valencia coach, Gary Neville. For me, the criticism is too harsh (pun not intended) for at least one player.
Arsene Wenger put up a 3-4-2-1 formation against Man City in the EFL Cup final. Granit Xhaka and Aaron Ramsey were paired in central midfield. Jack Wilshere and Mesut Ozil, not Wenger's usual combination, were more advanced. Whenever Ozil drove centrally with the ball, Wilshere moved to the flank. Ramsey pushed forward. Xhaka was alone in the middle of the park. The lumbering defensive line wasn't much help. They dropped back widening the space around the Swiss. On the flank, Hector Bellerin was preoccupied with Leroy Sane. David Silva and Sergio Aguero had freedom to roam between the lines.
Mustafi failing to play to the whistle brought about the first goal. Appealing to the referee while the other team is invading your box, in a final no less, is completely unprofessional. He should have been substituted then and there. But who did Wenger have to take his place? Certainly, Xhaka wasn't at fault.
The second goal came from a corner. Too many cerulean shirts went unmarked. When Ilkay Gundogan sent the ball into the box, Xhaka was faced with a choice. He took a step towards Vincent Kompany but saw Laurent Koscielny closing. Changing his mind, he picked up Aguero, who was ignored by Nacho Monreal. Would any coach expect a player to double team a defender on rickety knees while leaving the Premier League's third-best scorer unmarked? No.
David Silva's goal was a direct result of Bellerin having his pocket picked by Sane. Xhaka was not involved. Nor should he have been. There was nothing he could have done to prevent any of the three goals conceded. Yet, he is again being scapegoated for Arsenal's woes.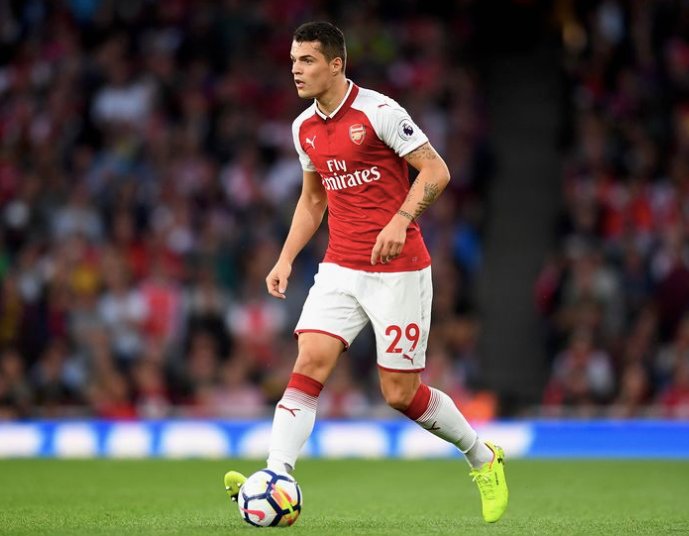 Only Manchester City's Nicolas Otamendi has had more touches in the Premier League this season than Granit Xhaka.
https://t.co/Sw4b9nJlkx
Agreed that it was hardly the best performance by the 25-year-old, but that doesn't mean he is not a good player. Other players were far more culpable than Xhaka versus City. The most accurate criticism that can be given is he is not a leader. There wasn't one on the pitch for the Gunners. No one marshalled the side. No one got in his teammate's faces to tell them they weren't good enough, to challenge them, to inspire them to fight. If anyone should be singled out for not doing so, it's club icon Wilshere. Then again, you must actually defend yourself before demanding it from others.
Granit Xhaka's game by numbers against Man City:
33 passes completed (79%)
6 long balls
3 successful take-ons (100%)
4 interceptions
3 clearances
1 tackle
Those are not a holding mid's numbers and there's a reason for that. At Borussia Monchengladbach. Lucien Favre played 4-4-2 with Xhaka and Christoph Kramer as his two midfielders. Kramer was and is a proper defensive midfielder who does all the dirty work. Xhaka was free to unleash his playmaking capability. It was the 2013-14 season when Xhaka thrived and was die Folen's best player. At Arsenal, Wilshere and Ramsey have all the license to go forward. Xhaka is suddenly expected to be Christoph Kramer. If that is what Wenger wanted in his new midfielder why didn't he sign the genuine article?
Regista and trequartista are complicated positions. They take time to master. Similar players like Xabi Alonso and Pirlo were late bloomers. Xhaka is only 25. With time and trust, he can become an invaluable asset to Arsenal. But they must put him in the role he suits. That role is not defensive midfield.
He's not a holding midfielder, he's a good footballer who can pass it and strike it from range but he's not a holding midfielder.--Danny Murphy.
Arsenal have no holding midfielders. Not a one. And they are competing in the top flight. I understand Gary Neville's outrage but he shouldn't be holding any player accountable for Wenger's shambolic man-management, least of all Granit Xhaka.