Why is Alexis Sanchez struggling at Manchester United?
Sanchez has underwhelmed for Manchester United
Background image: Stacey MacNaught, CC by 2.0
It wasn't that long ago when Alexis Sanchez was running defences ragged all over the country. The Chilean was in such great form at Arsenal that even Pep Guardiola, with his many attacking talents, was keen on signing him. It's been a different story since he joined Manchester United, however. What is holding Sanchez back?
When Manchester United snapped up Sanchez in a deal that saw Henrikh Mkhitaryan go the other way, one felt they had done an astute piece of business. After all, the former was in the form of his life while Mkhitaryan never really got going in a United shirt.
Nine months on, however, and Sanchez, himself, truth be told, has struggled to make any real impact in United colours. In the 25 games he has played since his transfer, he has managed only three goals and five assists. Sanchez, mind you, since he arrived England back in 2014, has never for once failed to reach double figures in terms of goals. Well, he is on course to end that run this season.
The big question is why is Sanchez struggling so much at United?
Curse of the No. 7 shirt?
I personally do not believe in things like this, but it does make you wonder why any player who ever donned the Manchester United #7 shirt, since Cristiano Ronaldo gave it up, is never quite the same player as before.
Angel di Maria and Memphis Depay both couldn't find their feet after electing to wear the iconic jersey, and who could forget the 2012/13 season when Antonio Valencia wore it. The Ecuadorian dropped it the following year.
Like those before him, Sanchez has looked a shadow of his former self in that (cursed) shirt. At the moment, he isn't even assured a place in the starting line-up. Perhaps attributing his struggles to a number might be a little ludicrous; it does make you wonder, though.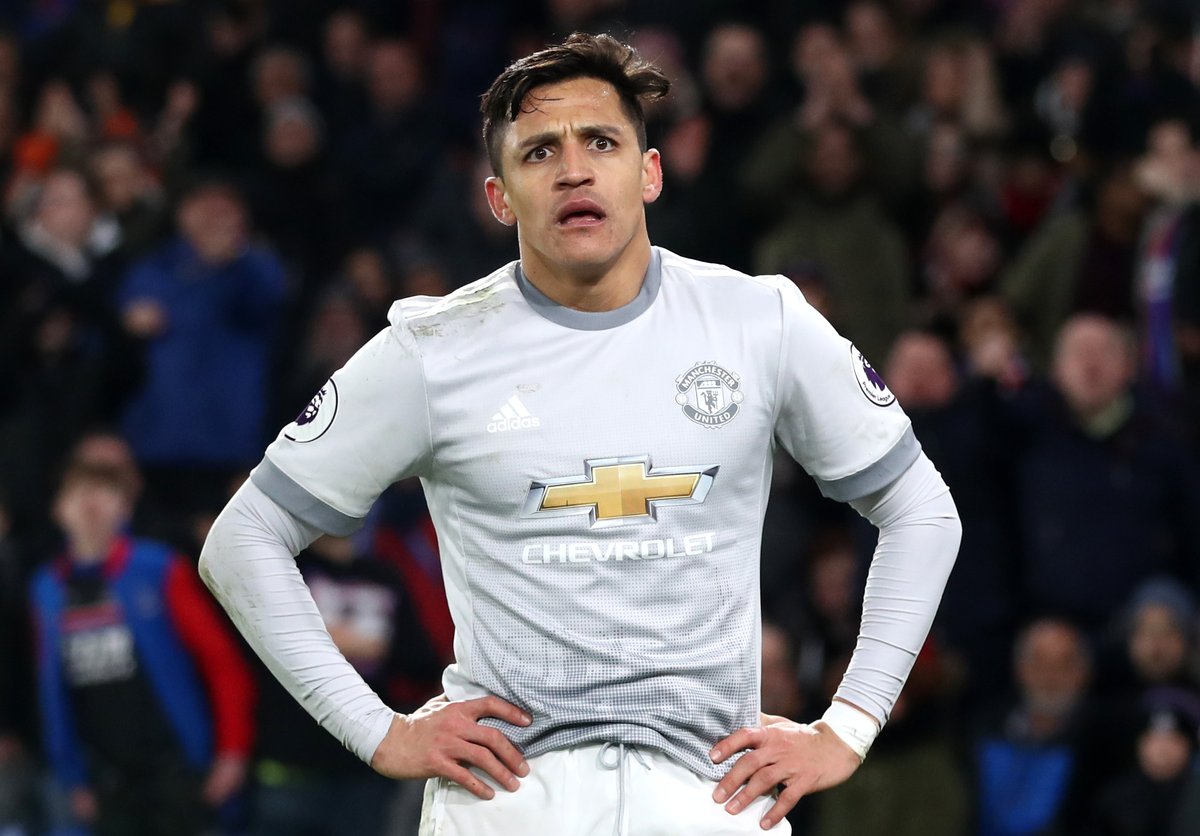 Alexis Sánchez's agent is set to begin talks with Real Madrid in an attempt to persuade the Spanish club to sign the Manchester United forward in January. (Source: AS)
https://t.co/fDzTmWdq5X
No longer the main man
At Arsenal, Sanchez got to the point where he was the one calling the shots in the attack. The 2016/17 season saw then Gunners boss, Arsene Wenger, make him the focal point of his team. The play was set up in such a way that play was more directed towards Sanchez. It paid dividends with goals galore.
That season saw Sanchez produce his best returns, numbers-wise in a league season. He bagged 24 goals while tacking on 10 assists, and also featured in all 38 league games. To say he was superb would be putting it mildly. He was simply unplayable.
At Manchester United, things haven't been as straightforward. Jose Mourinho has shown he isn't one who often changes his striker, whether he is performing poorly or not. And Romelu Lukaku is his preferred choice up front, although he has tried other options in the past couple of weeks.
Sanchez has featured for the Red Devils mostly from on the left wing, but even that berth has been taken from him now. There have been times he has come off the bench and looked to provide a little something different in attack, other times he has just not been at it.
The style of play is another thing that's affecting the 29-year-old. United, under Mourinho, play a very direct brand of football and for a player used to having the ball at his feet, it's going to take some time to adjust. Perhaps all Sanchez needs is more time.
Sanchez is a fantastic footballer that I would like to believe isn't past his best yet. What he needs is a consistent run of games to help build his confidence and he will start delivering the goods soon...