Inaki Williams shouldn't have extended his contract with Athletic Bilbao
Inaki Williams signed through 2025 with Athletic Bilbao. He possesses the talent to raise his profile with a bigger club.
Every young footballer's dream is to play for a top European side. It's where the money, glamour and prestige all reside. Some never make it. Now and then, a player who could sells himself short. By extending his contract with Athletic Bilbao through 2025, Inaki Williams became such a player.
His dream began when he signed with the Basque side in 2014 from youth team CD Pamplona. The breakthrough came when he stepped up for the injured Aritz Aduriz in 2015. Life's been a whirlwind since.
Fans don't need time to notice his presence on the pitch. His dribbling lights up the game. He's a delight to watch. Lightning pace startles defenders even when they expect it. He's old school in his passion for taking on defenders one-v-one and creating scoring chances. He can play as a winger from the right or left wing, as an attacking midfielder or in the No.9 role. After initial scepticism towards a non-Basque player, he's become a fan favourite. Perhaps their warm welcome for an outsider in an exclusive club convinced the 24-year-old to commit for so long a term.
Gratitude, humility and loyalty are all wonderful qualities fading from the world. That said, a player with Williams' qualities should be at a top club. People said the same about another star who wore red and white, Matt Le Tissier at Southampton, but the youngster's decision to remain at the San Mames harms his career.
As good as he is, Inaki's an unfinished product. His finishing and passing can improve. He's never exceeded eight goals in a season. If we're being picky, his dribbling in tight spaces needs work. It's evident the changes can't come at Bilbao He needs to go elsewhere to learn new ideas about the game.
His trophyless career is another concern. Los Leones' best hope for silverware is the Copa del Rey. They made the final in 2009 and 2015, losing to Barcelona both times. They aren't on the Blaugrana, Atletico and Real Madrid's level. In a good year, they can slip in with the Valencias, Villarreals and Sevillas. They made a Europa League final in 2012, falling to Atleti in an all-Liga final. Williams would fit well at all three Spanish giants or a top club abroad.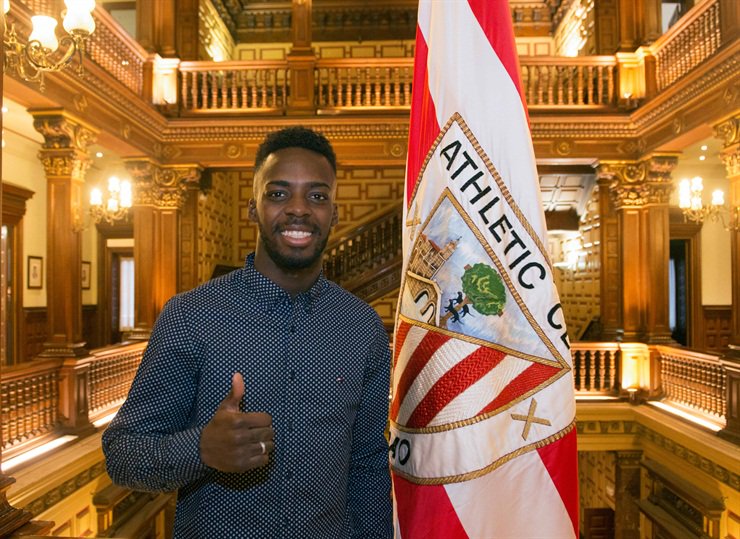 OFFICIAL: Iñaki Williams has signed a new contract with Athletic Bilbao, keeping him at the club until June 2025.
https://t.co/47tJRwvKjK
Spain has snubbed him at the international level, as well. Although race isn't taken into account in the official census, estimates say 2% of Spaniards are black. They are still underrepresented on the national team. Marco Senna's brilliant career was an exception to the unspoken rule. Williams made only one appearance for Spain, as a substitute. Watch him play week in, week out, and you will come away believing he deserves more. Despite that, he's happy in his hometown.
Perhaps he feels ambition also means betrayal, but football is business. Arsenal fans still love and adore Thierry Henry despite deserting London for Barcelona. The young Spaniard can only mark time at the San Mames. His game won't progress further. Then, one day in another eight or nine years, his powers will wane. Athletic will drop him then pick someone better to fill the void. Look no further than John Terry's final seasons at Chelsea or Wayne Rooney's at Manchester United. Loyalty is a one-way street. Williams can take another road.
His hastily signed contract, running through 2025, makes a move difficult albeit not impossible. If a big club is interested, he can reciprocate. Bilbao will be left with little choice but to sell. Arsenal scouted Williams during Arsene Wenger's tenure but his contribution is still needed. In Alexis Sanchez's wake, the Gunners can use a winger who can cut inside to deal damage. He would have to fight for a regular place against players like Henrikh Mkhitaryan and Mesut Ozil but trophies would be on offer. There are other clubs where he would thrive, too. His versatility presents Diego Simeone with an ideal option to rotate his attacking players throughout the campaign. He'd probably start at Lyon and enjoy regular Champions League football. Top Bundesliga sides, including Bayern with their two ageing stars, Arjen Robben and Franck Ribery, might want a look.
Williams should rethink his position. He's entering his peak years and has the talent to succeed at the highest level. What's missing is the ambition to leave.