Why it's time for Jose Mourinho to give Luke Shaw his full backing
Manchester United fans have been high on Luke Shaw from the get-go. Signed as a teenager, the young left-back made a glittering start to his Old Trafford career.
However, injuries aplenty followed, as did a certain Jose Mourinho. The pair brought nothing but stagnancy to the now 22-year-old's career. Many thought his time as a Red Devil was over.
There was always that one hopeful glimmer, however. Not once did Shaw's attitude waver. He remained confident in his own ability; the first step to making it at the highest level. An Ashley Young-less pre-season provided the ex-Southampton man with his big opportunity. It was a chance that he grasped with both hands - forcing his way into the self-proclaimed Special One's opening day starting line-up.
Shaw repaid that faith, by putting in an excellent display, probably his best in his professional career to date, capping it off with a brilliantly taken goal. Whether he meant it or not is another matter entirely. Who cares how they go in? Particularly when it eventually becomes the match-winning goal, getting United off to the perfect Premier League start as they look to chase down Manchester City.
That Man of the Match display means that he's now on the way to making himself undroppable. However, we all know how much Mourinho loves to tinker and change his starting XI. With the aforementioned Young slowly getting himself fit for the 2018/19 campaign, it'll be intriguing to see what decision the Portuguese manager makes. However, he should give United's #23 every chance to put his stamp on this team.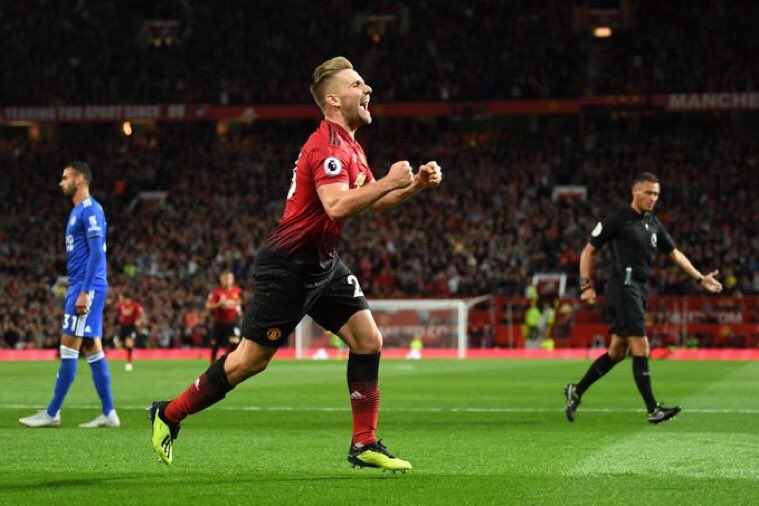 🍾 Man of the Match: @
ManUtd
's Luke Shaw.
🏆 Recorded team's most:
Touches (99)
Successful passes (57)
Possession won in defensive 3rd (7)
🏆 And joint most:
Touches in opposition box (3) 👀
Successful passes in final 3rd (12)
Shots on target (2)
Goals (1) ⚽️
https://t.co/IVeVgswrx3
In 134 professional appearances, surprisingly, that was Shaw's first top-level strike. It's not for the want of trying, either. The left-back loves to maraud forward and join in on the attack. I'd argue that before Friday night, he had just been unlucky. If he can add more goals and assists to his game, it'd be another string to an ever-growing bow. However, at this point, the phrase 'baby steps' comes to mind.
Shaw has to take things slowly. Injuries have tended to follow him wherever he goes. It's time to put those behind him. Mourinho needs to give him a real run in the team as to get those confidence-juices flowing. Even if he makes a mistake or two, the coaching staff have to give Shaw their full backing. I like Young, make no mistake about it. He's not getting any (excuse the pun) younger, though. His days as a make-shift left-back should be coming to an end.
What I love is the fact that United didn't sign a left-back. It suggests that Mourinho does indeed believe in Shaw despite multiple public beratings. Although the England international has been around for ages, he's still learning all the time aged just 22. This season is make or break, the club must give Shaw every possible opportunity. The player got off to the perfect start which can only be a good thing going forward. Now, it's time for him to kick on. The future is bright. All Shaw needs is a little helping hand along the way.