Why Manchester City should beware history after Premier League success
Manchester City have finally been confirmed as Premier League champions, bringing an official end to what felt like an inevitability months ago. Pep Guardiola's team have been the best of the bunch by some distance this season, playing football on a level that has had many declaring them as the best Premier League team ever. By the end of the campaign, they will not only have a Premier League title to their name but several divisional records to boot.
The Citizens are just nine points shy Chelsea's record 95 and just two away wins from the Blues 15 in a campaign. Three wins in their final five games will give them the most victories in a season as well. Records such as the most goals scored, biggest goal difference, and most goals scored at home are all within their reach. If they collect only half, those believing they are the best in the Premier League era will feel all the more vindicated.
Talk of a dynasty under Guardiola abounds. Vincent Kompany openly declared it was the team's intention. The new Premier League champions would be wise not to get ahead of themselves, though. A look at recent history shows that retaining the title is no longer an easy task. Just ask Chelsea.
This time last year, the Blues were riding high under Antonio Conte, playing a style of football that many were lauding in the same manner they have extolled City's. Indeed, some managers sought to copy it in the hope the Conte magic would rub off.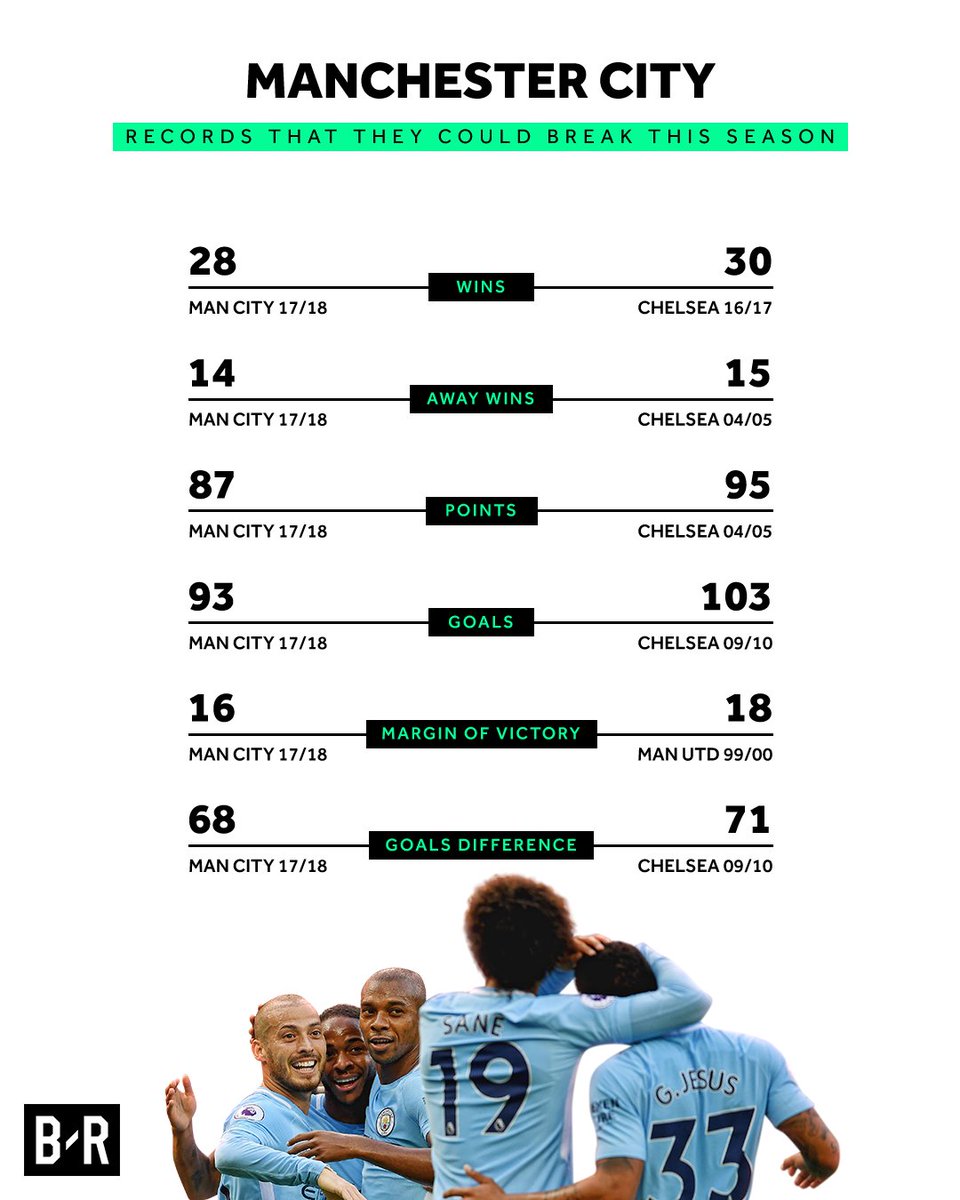 This year, of course, was nothing short of disastrous. Chelsea sit 27 points behind City and seven behind Tottenham Hotspur in fourth. It will take a miracle for them to be playing Champions League football next season.
The cause of their fall has been apparent to all: poor recruitment in the summer. Chelsea became complacent. Rather than add quality to their squad with the signings Conte wanted, the board elected to take on lesser players. The result has been poor performances this season. It is a trap that City has fallen into more than once already.
After their title success in 2011/12, they signed Javi Garcia, Matija Nastasic, Jack Rodwell, Scott Sinclair, and Maicon. All proved to be failures. City finished second. In 2013/14, they signed Wilfried Bony, Eliaquim Mangala, Fernando, Willy Caballero, Bacary Sagna and Frank Lampard to supplement their champion squad. Only Caballero and Lampard can be considered successes and that is pushing it. Again, they finished second. History shows that each year Manchester City have been champions they have taken their eye off the ball the following summer. It has hampered every title defence.
They may very well have another modest recruiting window, not because the lesson hasn't been learned, but due to Financial Fair Play regulations. It's very difficult to take in revenues that allow you to spend £150 million or more every summer. Paris Saint-Germain already has UEFA looking over their shoulder. Don't think City isn't paying attention.
City now have a world-class manager in Guardiola. He is very unlikely to allow the club to rest on their laurels. Only the best players will do for the Catalan. He has fewer needs this time out. A left back may be his biggest concern, then perhaps another striker to cover Sergio Aguero and Gabriel Jesus. And he will have to balance the books.
A decade's worth of history is against City repeating. Guardiola must be mindful. That said, he's already showing that he prefers to make his own history.