Why Manchester United should sign Jack Grealish
Rather than surplus to requirements, Jack Grealish may be exactly what the Red Devils need.
Image: Ian McAllister/Wikimedia Commons.
The January transfer window was a long one for Manchester United fans. The range of emotions seen on social media was astounding. From euphoria when news broke that Bruno Fernandes was once again on United's radar, to the five stages of grief when fans realised the deal might not go through. Eventually, United's Executive Vice Chairman, Ed Woodward, managed to drag the signing over the line two days before the window closed.
Adjusting to English football didn't take Fernandes long. Eighty-eight passes, 44 final third passes, 5 shots at goal and 3 shots on target, in all these categories the Portuguese surpassed every one of his teammates on his debut against Wolverhampton Wanderers. On the day one thing was made clear, the 25-year-old is a level above those who surround him.
According to Givemesport, Andreas Pereira, who started in a double pivot alongside Fred, failed to make a single key pass and lost possession 14 times throughout the game. United's midfield were so bad at retaining possession that Ole Gunnar Solskjaer resorted to having Fernandes switch positions with Pereira in an effort to get the signing from Sporting Lisbon to dictate the game. Solskjaer could argue that it was largely down to injuries to both Paul Pogba and Scott McTominay.
In a meagre five starts this campaign, Pogba has notched two assists in the league. This is just four behind Daniel James who, after 22 games in the starting eleven, is the club's leading creator with six assists. Deploying the Frenchman as a deep-lying playmaker in a double pivot alongside either Fred or McTominay would certainly be an improvement on what we've seen so far.
The uncertainty for the Baby Faced Assassin will lie in the 26-year-old's future. In the summer Pogba made it abundantly clear he wanted to leave, saying that it may be time for a new footballing challenge. While the World Cup winner's contract runs out in the summer, it's worth noting that United have an option to extend it for a further year. Either way, the Red Devils will want to stock up on yet another left-sided forward to avoid any future shortages.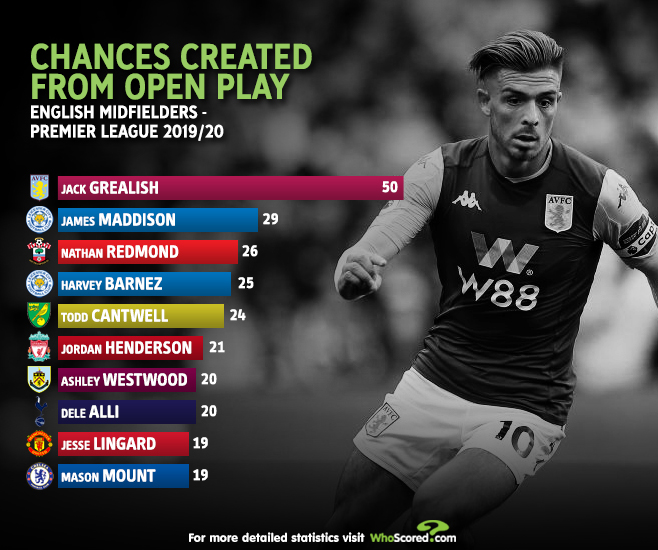 Jack Grealish is one of only two players in Europe's top five leagues - along with Kevin De Bruyne - to have created 50 chances from open play this season
21 more than any other English midfielder in the Premier League...
#AVFC
https://t.co/7LjuaVO6xj
If the manager wants goals, creativity and aggression, then Jack Grealish is the perfect target. The 24-year-old has notched seven strikes and provided five assists in the league. Those numbers would make him second in the list of goal contributors if he were playing for United. The Englishman's versatility is another valuable asset, while Grealish has spent most of his time on the left-wing for Aston Villa, he is also capable of playing in attacking midfield and as a traditional number ten.
A move for Grealish would require a change in shape from United. At the beginning of Solkjaer's tenure, in which he won nine of his first ten games at the helm, the Norwegian successfully relied on a 4-3-3 formation. There he asked Nemanja Matic to shield the defence, while tasking Paul Pogba and Ander Herrera to make the difference at the opposite end. Since then, due to injury and a host of exits, Solskjaer hasn't been able to rely on his seemingly preferred formation, switching to a 4-2-3-1 and more recently a 3-4-3 instead.
With Grealish, Solskjaer could revert back to what worked. McTominay or Fred would shield the backline and the manager could unleash Fernandes and Grealish in the opposition's half. If Pogba stays, even better, as it would give the boss a good selection headache, instead of bemoaning his lack of options. The real challenge will come in trying to prize Grealish away from his boyhood club...
Manchester United still retain the lure of a giant. Should United qualify for Europe, the temptation to showcase his talent to the world may be too strong. The Villans lie just one point above the relegation zone, if Dean Smith isn't able to keep them up, this may force Villa into selling their most prized asset. Grealish being contracted until the summer of 2023, means that even if Villa do sell they'll demand a pretty penny. So if Manchester United want their man, they'd better be prepared for yet another summer of big spending.