Why Nicolas Pepe will prove the real deal for Arsenal
Arsenal fans have been waiting with anticipation on what a crucial summer transfer window holds. Unai Emery's Gunners needed at least one top-class recruitment, although the club hierarchy only made a reported £50million available. Understandably, the outcry from fans was very real. Their vented frustrations may have actually worked. More on that later.
Arsenal's need for a quality winger is common knowledge for everyone who knows even a little bit about the North London outfit. Both the right and left flanks have looked threadbare since Alexis Sanchez left for Old Trafford. In the quest for a replacement, Wilfried Zaha was hotly pursued and the Ivorian showed huge interest in an Emirates switch. However, the Gunners were forced into a change of heart, presumably due to Crystal Palace's demands. Now, they'll move for Zaha's Ivorian colleague, Nicolas Pepe.
Aged 24, Pepe is three years Zaha's junior, meaning all being well, he'd provide more longevity for Arsenal. The forward was on fire for LOSC Lille throughout last season, helping the Ligue 1 side to second spot, only behind Paris Saint-Germain.
Christophe Galtier's team was treated to a first-class goal-fest last season owing to Pepe's high level of prolificness. The 24-year-old scored a staggering 23 goals, finishing only behind French wunderkind Kylian Mbappe. Not even the highly-rated Edinson Cavani can boast of matching Pepe's goalscoring standard over the last twelve months. Pepe's ability to create scoring chances for his teammates makes him even more attractive and useful, with the winger producing 11 assists to add to his double-figured goals tally.
Pepe is a handful for opposing defenders. His preferred position is playing out on the right-wing, where his top-class dribbling skills enable him to cut in onto his stronger left foot and either take a strike at goal or cause damage due to his excellent vision. In terms of comparison, you look at someone like Arjen Robben, whose game is very similar.
The partnership of Pierre-Emerick Aubameyang and Alexandre Lacazette has sharpened Arsenal's attack over the last two seasons. The striking duo remains Arsene Wenger's living legacy as they've grown to become a scary pairing - scoring more than half of Arsenal's total goals last season. Signing Pepe will turn this partnership into a triumvirate that can cause trouble for any defence in world football.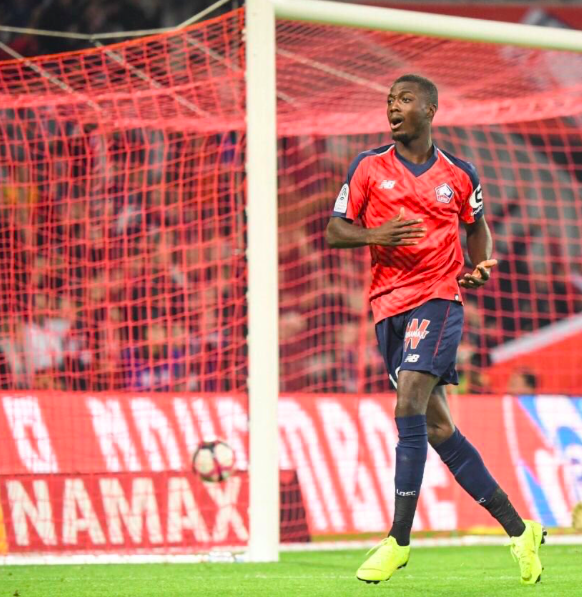 "He is super quick, he has a left foot which is silky, one vs one he's second to none. He finishes really good, he takes penalties and free kicks, he's a very, very accomplished player and I think Arsenal fans will be in for a treat for sure"
- Jose Fonte on Lille teammate Pepe.
https://t.co/wonU2bPWQ5
The last Lille player to be so clinical when bearing down on goal? Eden Hazard in the 2011/12 season. The Belgian then took the Premier League by storm, etching his legacy before securing a dream move to Real Madrid. Pepe is on a similar path, though he won't be doing it in Chelsea's famous blue kit. Arsenal's red and white number is rather gorgeous this season, mind.
For Arsenal fans, the good news is Pepe will be a Gunner in the next few days, with the fee standing at £72million. So much for that £50million budget, eh? I guess complaining sometimes does pay off as Arsenal's powers-that-be have seemingly had a change of heart.
Though he struggled in the just-concluded AFCON, Pepe won't find it difficult to meet the high expectations under Emery. The Gunners obviously have a considerably better squad than Les Dogues. Mesut Ozil looks like he's waking up considering his recent performance in the friendlies. The German's creativity and passing brilliance is needed now more than ever. Then there's Alex Iwobi, who was in fine form for Nigeria, finishing third with his beloved Super Eagles. He'll go into this season brimming with confidence.
Let's go back to why Arsenal had a change of heart over Zaha. Simply put, Crystal Palace's demands were too much. They wanted at least £80million upfront to let their prized asset go. Pepe's £72million fee, meanwhile, will more than likely be paid out in instalments.
Then there are the numbers. Pepe struck more than double Zaha's amount of goals last campaign. It also means talented up-and-coming Gunners, including Eddie Nkeitah and Reiss Nelson, will have secure futures. Their preferred position is on the left, meaning their minutes would have been reduced as that's Zaha's favourite spot.
Splashing the cash on Pepe could well turn out to be the best decision so far under Emery. The young gem has a bright future. His true potential will be realised in North London. Arsenal fans, rejoice, as opponents will find it immensely difficult when going toe-to-toe with this exciting front three next season.