Why the Premier League PPV scheme is the latest kick in the teeth to the average football fan
The average, working-class fan is already suffering. Why not give them a break rather than hurt their wallets even more...?
Empty, lifeless stadiums. Football clubs struggling. Fans twiddling their thumbs on a weekend without their fortnightly pilgrimage to their 'home'. The beautiful game as we know it is changing shape right before our eyes. The fear is it'll be like this for a while, too...
The only thing keeping us sane is more televised games than ever before. With no supporters being allowed in grounds up and down the country, we've been treated to four, sometimes five, live Premier League games on any given Saturday or Sunday. Well, all that's about to change. Some of those games will still be available - but at an extra cost.
About a week ago now, the Premier League, along with Sky Sports and BT Sport, came to an agreement in regards to games that'd typically be part of the traditional 3pm blackout, but have recently been included within your various television packages. No longer would these matches be an added bonus for the fans. Rather, they'll be charged at £14.95 per-game, presumably for however long fans remain forced to stay away from stadiums.
It all started with Manchester United vs Newcastle United on Saturday 17th October, costing almost £15 to view from the comfort of your own home. Then, on Sunday, Leicester City vs Aston Villa was given the same treatment. That's another £15. The Premier League will wrap up the weekend with the all-time classic of West Bromwich Albion vs Burnley on late afternoon Monday. Yep, you guessed it, that's a further £15. To watch three extra games this weekend, it's going to cost your household £45. On top of your typical packages for Sky Sports and BT Sport, which likely cost in excess of £80-per-month anyway! Scandalous.
So let me get this straight. Sky/BT and the Premier League want £45 next weekend ON TOP of current Sky subscriptions to watch:

- United vs Newcastle
- Burnley vs West Brom
- Leicester vs Villa.

In the middle of a pandemic I may add. Jokers.
It seems as though Premier League greed knows no bounds. In a time where money is tighter for the average family, where mental struggles are becoming a real problem, why not do the nice thing and give these fans a reason to actually like these multi-billion pound companies who'll never know financial struggles? Instead, Premier League chief Richard Hoffman, along with Britain's biggest broadcasters, are seemingly doing their best to alienate us even further.
From top to bottom, the whole thing stinks of the rich getting richer without really caring about the masses. Football, what was once a game of the working-class, is now being dragged deeper and deeper into oblivion. These days, it's simply a cute little playtoy for folks like Sheikh Mansour and The Glazers, particularly the latter, who are milking every single penny out of Manchester United without any real care or desire for footballing success.
While speaking to fans about what's unfolding, they understand that these games, like anything in life, come at a price. £15 just feels way too excessive. Why can't the Premier League at least try and be reasonable for once? Make it super-affordable, let's say £5-per-game or a tenner for the three fixtures on PPV that weekend? Their pockets will still weigh heavy, while fans won't feel like they're being completely ripped off.
I turn my attention Stateside to how they operate. Take a look at NFL's Game Pass, or the NBA's League Pass. Both allow you to subscribe to every single game in a season, or pay for just one team at a smaller price. The fees for both are far more reasonable while the product is equally as attractive. The problem? The Premier League has these fans exactly where they want them. Some supporters will pay the £15 out of sheer desperation to see their team play. And it's deeply upsetting.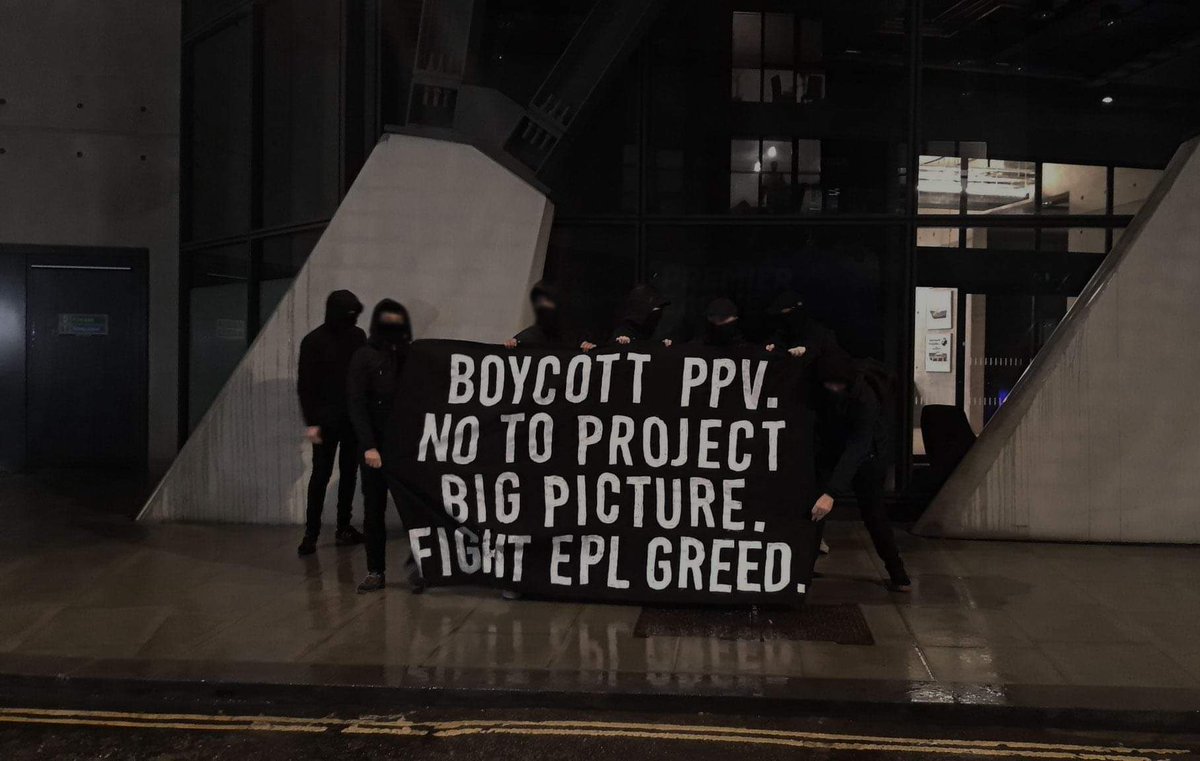 Small action outside the Premier League HQ last night.
Fight greed, reclaim the peoples game.
https://t.co/3l9MM0D4Sq
Several will stand firm and boycott. I certainly won't be paying £15 to watch my beloved Red Devils take on The Magpies this weekend. Instead, I'll tune into the radio and offer my support to BBC Radio 5 Live instead. Some will pay it, which is fine. Understand this, though. Greed leads to more greed. If enough punters sign up, this will become a regular occurrence...
The only good that can come out of this is the Premier League, Sky and BT get found out and are forced into either scrapping these scheme or lowering their prices. In the end, though, it's always the fans that lose out. Sadly, that's just the nature of the game that we're all playing at the moment. Unfortunately, that'll never change, no matter what happens with this latest attempt at a ridiculous money-grab from the powers-that-be...