Why Real Madrid should not buy Eden Hazard
Eden Hazard is vocal about his future but gives mixed answers about where his future lies. He fancies Real Madrid, saying it is his childhood dream to play for the Whites. He also wants to become a club legend for Chelsea like Didier Drogba and Frank Lampard. Unfortunately, it must be one or the other. But that is not to say that the choice lies entirely with Hazard. Real Madrid must also want him. Whether Los Blancos do or do not, an argument can easily be made that they shouldn't.
After a painful adjustment period following Cristiano Ronaldo's exit, Real are in ascendance again. They are scoring more, conceding less and moving higher up the table. A midweek draw in the Copa del Rey semifinal first leg against Barcelona at the Nou Camp was a decided improvement over the debacle that was Julen Lopetegui's sole Clasico. Saturday's dominant win at the Wanda Metropolitano against Atletico lifted them to second in La Liga. Barcelona endured a goalless draw against Athletic Bilbao Sunday at San Mames, leaving the gap between the two Spanish giants at six points.
Santiago Solari's trust in youth has produced results. Karim Benzema, Lucas Vasquez and Vinicius Junior represent an upgrade on Lopetegui's attacking trio but the Merengues still lack the charisma in the final third. Madrilenos are accustomed to a legend leading the line, be it Ronaldo, Raul or Alfredo di Stefano. Hazard is not in that class. Real Madrid should stay away from him.
It's not that the Belgian isn't prolific. I believe he ranks among the game's top forwards but his skillset is not what Real need. Hazard is a playmaker first, a scorer second. Solari has more of those than he requires but not enough of the opposite. The Belgium international has gone a year without a goal in the past. Madrid need a finisher who can't stand to go a game without making the scoresheet.
Again, this isn't to diminish Hazard's class in anyone's eyes. He brings a lot to Chelsea other than goals. His quick passes, fantastic positioning and sublime dribbling skills can wreak havoc on the best defence. However, Santiago Solari has Vinicius Junior to do exactly that and when the teenager is not in the lineup, Gareth Bale. Hazard is ten years older than Vinicius Junior. Transfermarkt values the Belgian at £130 million, a large amount to spend on a player who only adds depth to a position and is less than two years from his 30th birthday.
Karim Benzema leads the line for the Merengues. He has ten goals in La Liga. For the Frenchman, that is prolific. For others, not so much. Cristiano Ronaldo has 18 strikes at Juventus. Lionel Messi has 21 for Barcelona, Luis Suarez 15. Benzema's numbers do not meet the standard at the Santiago Bernabeu. Forty-goal scorers like Ronaldo and Messi don't grow on trees but the club can recruit someone who will approach 30 in a season. Even if Benzema's production was satisfactory, he's 31. Los Blancos require a more long-term solution.
The other option in-house is Mariano, recalled after scoring 18 goals in Ligue 1 for Lyon but he is not replicating those numbers as Madrid's new number seven.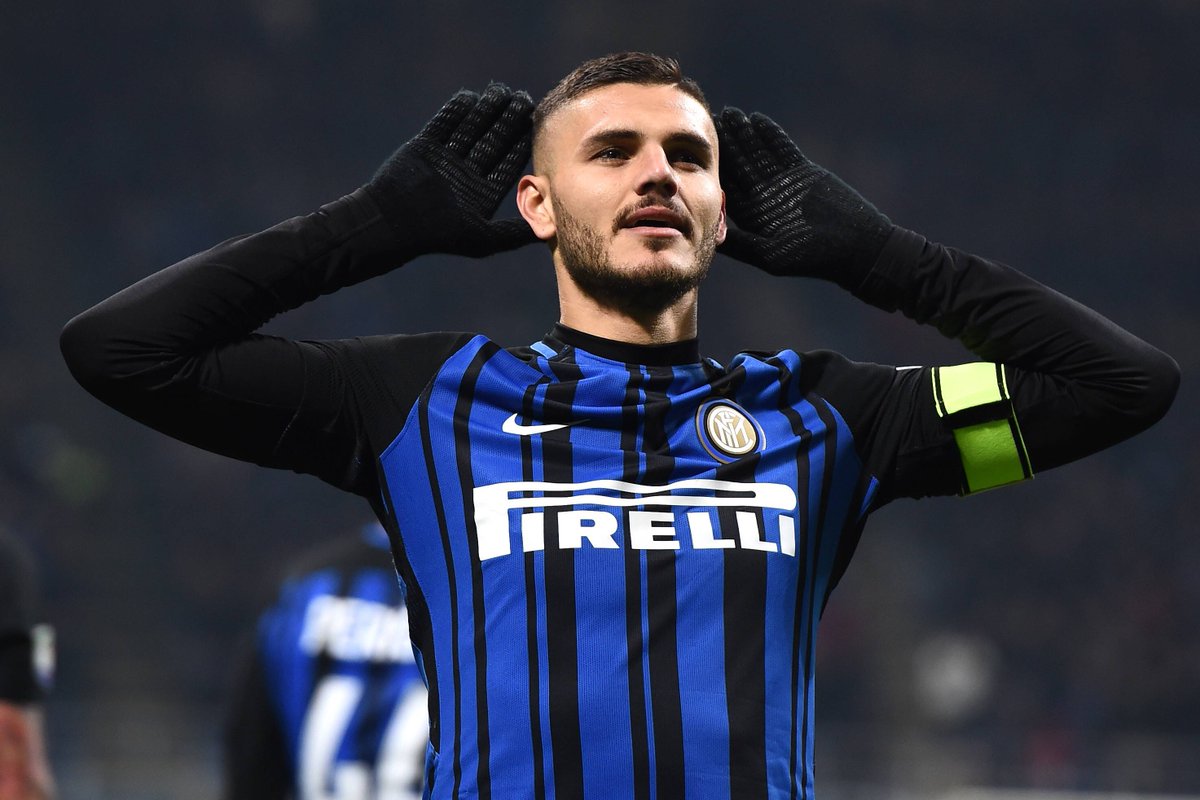 🇮🇹 Inter Milan striker Mauro Icardi will move to Madrid in the summer.
#ForzaInter
#AupaAtleti
https://t.co/F8ezWU7Byw
Where can Real Madrid turn? Players such as Harry Kane, Kylian Mbappe, Neymar or Mo Salah would be difficult to acquire. Sergio Aguero, Antoine Griezmann, Robert Lewandowski and Edinson Cavani are not future proof. Established youngsters like Marcus Rashford, Gabriel Jesus and Patrick Cutrone love their clubs too much to leave.
Given the club's recent shift in transfer policy, there are several promising though less-proven options. For starters, Timo Werner can be an interesting pick. While the German striker underwhelmed leading the line for Germany at the 2018 World Cup, we're talking about a few games. In club football, the 22-year-old has time to develop his untapped potential. Since the start of last season, he's scored 31 goals for RB Leipzig. His quick feet and well-timed runs in the channels are perfect for a counterattacking club like Real Madrid.
Eintracht Frankfurt's strike pair, Luka Jovic and Sebastian Haller, provide interesting qualities too They have scored 13 and 16 goals respectively in the Bundesliga. Meanwhile, Benfica's Joao Felix is being hailed as the next Cristiano Ronaldo
If the club prefers a little more experience, Mauro Icardi remains an excellent choice. Last season, he scored 29 goals in 34 Serie A appearances. The Argentina international is not recognized by his nation but is a ridiculous scoring machine. You give him the ball with a little bit of space and the keeper will need therapy. His defensive contribution and involvement in the buildup is a doubt but he is perfect as a pure number nine.
Ciro Immobile is an able contender too. He is carrying Lazio on his shoulders these days. More mature than when he struggled at Borussia Dortmund, a move to the Spanish capital would be profitable for both parties.
Romelu Lukaku is a wildcard. Under Ole Gunnar Solskjaer, the big Belgian finds himself behind Marcus Rashford and Anthony Martial in the pecking order. He wants a bigger role. Even the doubters can't deny he doesn't score goals. Real need a pure striker. Lukaku needs to be the man.
There may be no perfect choice to be the new talisman at the Bernabeu but that doesn't mean the club should sign a player whose name turns heads when his talent doesn't meet their needs. Eden Hazard is not the man for Real Madrid.