Why Spurs already exceeded expectations this season
Amid the shock and dismay in the Johan Cruijff Arena last Wednesday, there was ecstasy from one section of the stands after Lucas Moura completed his hattrick to complete Tottenham's comeback against Ajax and book a place in the Champions League final. The same occurred in the visiting team's box and technical area. Mauricio Pochettino unclenched his wristwatch and sunk to the ground in absolute jubilation. Tears rolled down his eyes until he buried his face in the palms. Spurs managed to produce one of the greatest second-half performances that you will ever witness. Fantasy football stepped into the real world.
When the season started, such an outcome was unimaginable. Critics analysing the Premier League's summer transfer business predicted Spurs would fall out of the Champions League places. They failed to secure a single signing. It didn't even appear they tried.
How could the club do no business when most of their core players advanced to the World Cup semifinals, if not further? Harry Kane, Dele Alli, Kieran Trippier and Danny Rose for England. Higo Lloris for France. Toby Aldeweireld and Jan Vertonghen for Belgium. Davison Sanchez advanced to the Round of 16 with Colombia.
Son Heung-min didn't make it past the group stage but was booked for the Asian Cup with a hitch in the South Korean military looming if he failed to win it.
In addition, the club sold influential midfielder Mousa Dembele and lost Harry Kane not once but twice to ankle injuries in the new year.
Detractors smiled knowingly when Spurs stumbled out of the gate but their jaws dropped when the North Londoners quickly climbed the table and remained there for the duration. His military obligations excused, Son stepped into the void left by Kane. Moussa Sissoko stepped in for Dembele. Hugo Lloris picked up his game. Toby Alderwereild performed like a company man rather than one refusing to renew his contract. Danny Rose showed the world he could play without new signings even if he spoke out against his club's inaction.
Yesterday's draw against Everton formally secured their Champions League status for another season whether or not they win the final against Liverpool. That they are 90 minutes from becoming European Champions boggles the mind. Their European journey is nothing short of a fairy tale. Barring the result against Borussia Dortmund in the round of 16 (4-0 on aggregate), Spurs won by away goals on every other occasion. Talk about fine margins.
Tactics played a huge part in what Spurs' achievements this season. Mauricio Pochettino proved yet again he can unsettle the cagiest managers who field the best squads money can buy. Seriously, don't look at me like that, Pep. The Argentine's tactical nous and adjustments played a huge part in turning the tide in his favour. To be fair, VAR played a part against Manchester City but every champion requires more than their share of luck.
That said, there is something beyond the tactics, training routines and press conferences. It's his passion and love for the game, his emotional connection with his squad. That was certain when he reduced to tears after the Ajax game;
Thank you football. Thank you my players. They are heroes. Without football, it is impossible to live.
Most football aficionados measure success by trophies. It's a good measuring stick but, like any device, isn't always the right tool for the job. Pochettino's Spurs are the rare example of a side with more polish and shine than their trophy cabinet. Taking this club where he has on a limited budget reveals the manager's quality. Remember for a moment that Lucas Moura and Serge Aurier were surplus to requirements at Paris Saint-Germain, a club much more desperate for silverware than Tottenham. Yet it is the London club with a chance to stand on the winners' podium first.
Fernando Llorente, too. Most couldn't see why Poch signed the tall Spaniard who didn't fit his system. In a thin squad, exhausted and wracked by injury, the former Juventus and Swansea target man allowed the boss to adjust his tactics to accommodate the situation. Llorente held up play, allowing Son and Moura to overlap him to great effect. When Pochettino needed to throw in the kitchen sink, lo and behold, he had one.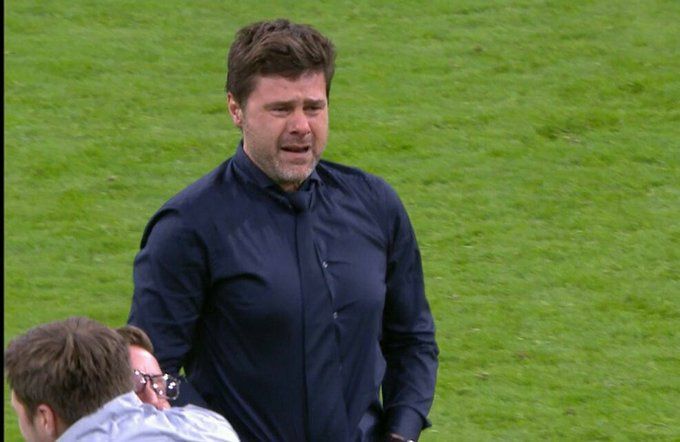 When Pochettino took over Tottenham, they hadn't finished above 4th in 29 years and had never got past a Champions League quarter-final
He's now taken them to 4 consecutive Top 4 finishes and their first ever Champions League final!
One of the best managers in the world!
https://t.co/uXr5jHcPl8
The young players responded as well. Harry Winks stepped in when Eric Dier went down, giving opponents a second playmaker to worry about beyond Christian Eriksen. Oliver Skipp played a part too. Juan Foyth, Ben Davies and Davinson Sanchez filled in at the back.
Don't forget Erik Lamela and Michel Vorm either, Even Victor Wanyama had his moments in a desperate season overall for the Kenyan. When he called on them, every player in his squad invariably responded.
Despite the guts they have displayed, the club may still go without glory again this term. Liverpool is no easy task. That's the thing about football, it can be beautiful and cruel at the same time.