Why the Carabao Cup could kick-start the eventual winners' season
Background Image Via: Wikimedia Commons/JBMG40.
Ah, the Carabao Cup. Often seen as the trophy nobody cares about, particularly for the so-called 'big six' who tend to heavily rotate their squads in favour of adding another trophy to the cabinet. Why that's the case I'll never understand, but I'm here to explain why every side should take this tournament far more seriously.
I guess it'd be wise to start right at the top. For Manchester City, it proved to be the perfect kickstart to their centurion season. Winning the Carabao gave them a huge lift in confidence and morale as they eased their way to a record-breaking Premier League title win. It's a strategy that managers have used to great effect in the past. Jose Mourinho did similar at both Chelsea and Manchester United, in the latter's case, it was the Carabao Cup and Europa League double. It works, time and time again.
The Cityzens have already booked their place in the Wembley showpiece next month, while tonight's match certainly gets the juices flowing. Tottenham Hotspur holds a slender 1-0 lead from the first leg, while Chelsea, playing this evening's game at home, will be feeling confident that they can overturn that deficit.
For both sides, it's imperative for differing reasons. Let's start with Mauricio Pochettino. The Argentine is often heralded as the next big managerial superstar, but he's yet to win a trophy with Spurs. Imagine the lift winning the Carabao Cup would give the whole club. It'd be the first taste of success that the majority of that squad will have had in their professional careers. Perhaps, it'd even persuade Poch, and the players, to remain at White Hart Lane in the long-term. It'd reinvigorate the belief that he could deliver an even bigger trophy in the not too distant future.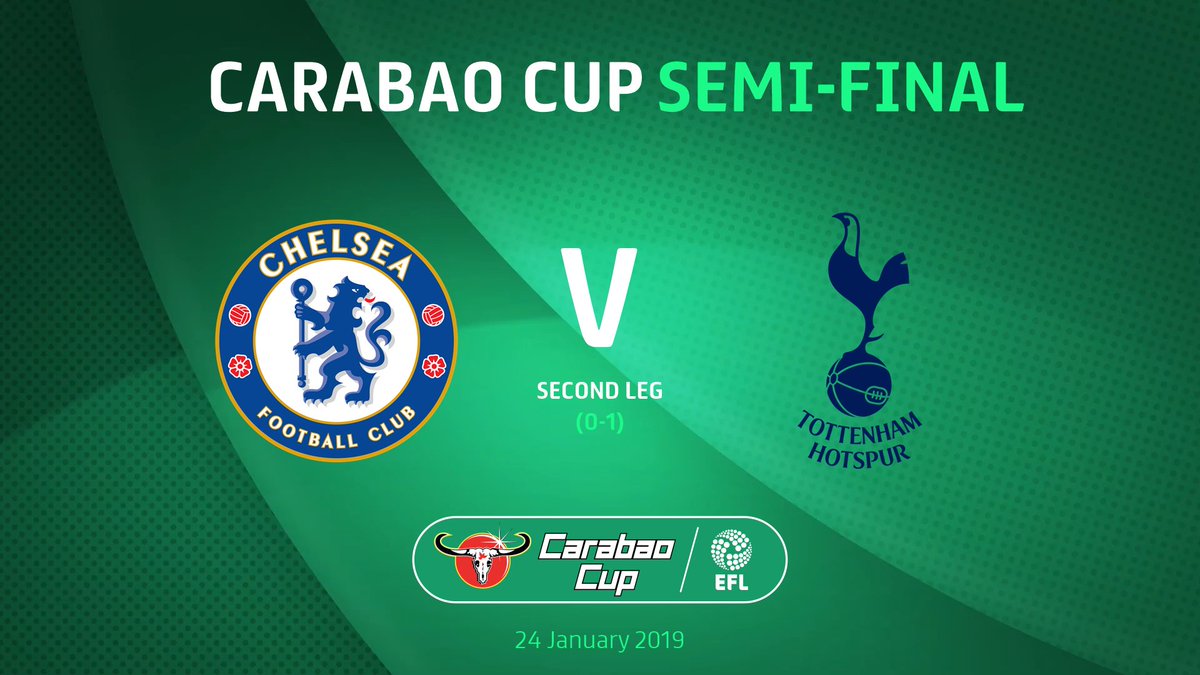 Maurizio Sarri's Chelsea start probably hasn't gone as well as the Italian envisaged. After calling out the players following being beaten, and beaten well by Arsenal, that whole dressing room could use a lift. The Gonzalo Higuain acquisition could be the perfect catalyst that leads to bigger success. Tonight, Chelsea have an opportunity to put their poor start behind them. If they get to a final, in a one-off game anything can happen. While the Blues are still fighting it out in the Europa League, and also looking to secure a top-four finish, the confidence that winning a trophy can bring cannot be understated or downplayed.
City's job is pretty clear. Their place in the final is booked, they'll now wait to see who they'll face. Pep Guardiola's men still hold out hopes of completing a historic quadruple. While the chances of it happening are probably pretty slim, City would prefer not to stumble at the first hurdle. Whoever they'll face in the final will provide a stern test, but the Manchester club doesn't need any extra motivation whatsoever.
For everyone else, winning the Carabao Cup would be viewed as a successful season. From next season forward, I'd love to see more sides taking it seriously. I get it, for the owners it's all about bringing in the money and there's no better way of doing that than maintaining Premier League status, but for the fans, a good cup run is everything. Without the supporters, there would be no football at all, perhaps it's time for them to give back.