Why Victor Wanyama deserves a lot of credit
Tottenham Hotspur said goodbye to White Hart Lane on Sunday and an unlikely goalscorer helped them to victory over Manchester United in their last game at the stadium. Wanyama fired a header past David de Gea early on, giving Spurs the perfect start to a game that meant so much to everyone associated with the club.

Throughout this campaign, a lot of praise has been given to players like Dele Alli, Harry Kane and Toby Alderweireld but the performances of the Kenyan cannot be overlooked. The old-school, defensive midfielder consistently protects the backline and has been one of the reasons why Spurs currently have the best defensive record in the league.

Without him in the side, there would not be as much freedom and license to get forward for the attacking players because he picks up a lot of the defensive slack. Even the full-backs or wing-backs are encouraged to push higher up the pitch and they can afford to with the cover that Wanyama provides. His presence gives the team much more stability and any centre-backs would certainly feel a lot safer if he was playing in front of them.

Wanyama is an immensely powerful player and uses this to his advantage, shrugging off opposition players with ease. He is often the victor of any physical battles in the middle of the park and his dominance in this area must intimidate those up against him. The brute strength and aerial ability of the Kenyan also make Tottenham more deadly from corners, as shown on Sunday.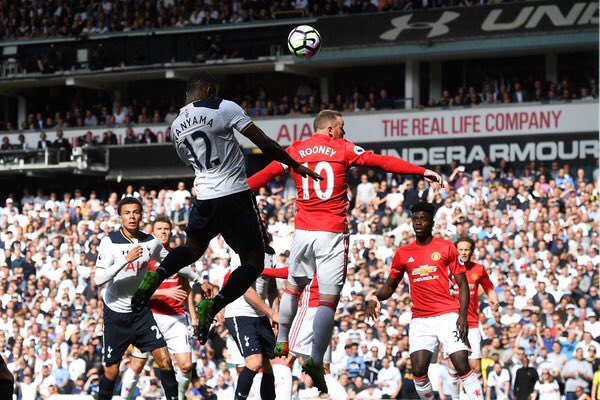 Discipline however is his major downfall. In his last few games, he has been lucky to stay on the pitch, due to a number of yellow card-worthy challenges that were not picked up on. The passion for winning back possession has certainly got the better of him on a number of occasions. In saying this, he has not seen red this season which is progress bearing in mind he was sent off three times in just one season for Southampton.
Despite this, Wanyama does know when to take one for the team. Arguably, United's most effective player at the weekend, Anthony Martial was looking dangerous on the counter-attack and Wanyama unfairly brought him down, knowing a booking would be better than a potential goal for the visitors. To improve as a player, he must try to reduce the number of bookings from unnecessary fouls and only take a yellow card when he feels the team could concede.
Mauricio Pochettino worked with him at Southampton and saw a void he could fill in the Spurs team. The Argentine was definitely right to sign him as he has been a major part of their success this season and only missed two league games. In today's market,
£11m for Wanyama is a bargain
given his work-rate and influence on the pitch. The 25-year-old has 119 Premier League appearances already and has the potential to become a legend for the club, providing he is not sold in the summer.
Lots of fans and pundits have stated that Spurs need to hold on to the likes of Alli and Kane but I would argue that Wanyama is equally as important. It would seem as if reliable defensive midfielders are becoming increasingly rare and for that reason, Spurs fans should be thankful they have got one of the best in the league, protecting their defence.