Will Aston Villa be another Leeds?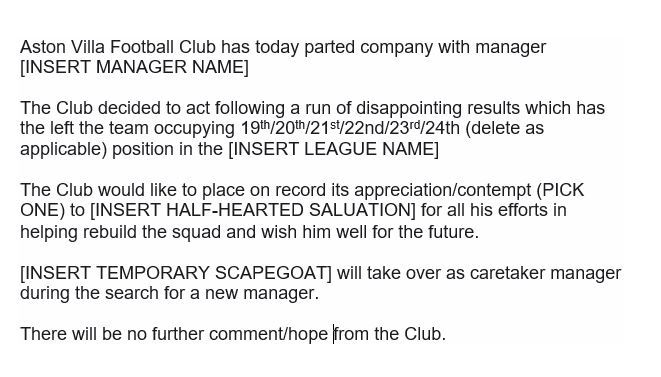 As a football fan for many years, I have grown accustomed to a few thing in the English Premier League which I argue is a huge part of the English Premier League since it was formed in 1992 .

I am referring to Aston Villa in this instance. The Midland's club who came close to winning England's Premier League in the early 90's, sadly for football purists has been on a downward trajectory since.

In the early 90's, Ron Atkinson was in charge of The Villains of course and the team from the Midlands nearly produced a crowning moment in their history that year, but as history went it was Manchester United who would go on to win the league that and the rest, as they say, became history.

Midtable 'mediocrity' followed for many seasons thereafter,  but when the Villa board opted to hire former Leicester City manager Martin O'Neill, expectations at the club changed.

The Irishmen, dare I say it got the club 'punching above its weight'. Consecutive sixth place finishes followed and things were looking 'rosy' at Villa, but then 'disaster' struck.

What I still to this day describe out of the blue, O'Neill unexpectedly resigned from his post at Villa Park, with the reason for his sudden departure still  somewhat unknown to this day.

Ever since then, things have gone from bad to worse for Aston Villa. Managers since the departure of the Northern Irishmen, have come and gone.

Paul Lambert, Tim Sherwood, and Remi Garde and now Roberto Di Matteo have been the Villa job and have left just as quickly too. All these managers have had to work in the same circumstances, any money to sign players had been limited.

In the case of Lambert, the former Norwich boss tried to blood younger players to counteract that  problem, for a while it seemed to be working, but that idea seemed to get scrapped in favour of more experienced players.

A club with such a great history as Aston Villa has been lacking direction for 'some time'. Former owner Randy Lerner, in the end just quite simply became 'uninterested', which was a huge part of the problem.

The actions of their former American owner, as it turned out, is having a dire consequence in terms of the running of the football club. Former FA chairman David Bernstein was appointed in an advisory role, but left quicker than you could say "hello David".

The apparent reason for Bernstein's instant departure was due to some disagreements at board level.

Last season, in fact, the club seemed resigned to its fate (relegation to the England's second tier for the first time in 29 years). What 'rubbed salt in the wounds' was the behaviour of apparent stalwarts if you can call them that Joleon Lescott and club captain Gabby Agbonlahor.

Unsurprisingly Aston Villa was relegated and look to be 'staring' at the realistic concept of getting relegated to the England's third tier.

Di Matteo has tried to assemble a squad of new players, but if the start of this is anything to by, The Villains who are in the bottom half of the table look to be in for a 'long season', with the manager being unceremoniously dumped after just four months in charge.

As a football purist, I would love to be proved wrong, but at the moment Aston Villa is doing nothing to make me think otherwise.