Strength or weakness in numbers for Sarri's Juve midfield?
Call them the Galacticos of the Serie A; you won't be wrong. Only the very best players can afford to hold down a place in the Juventus first-team right now, regardless of his position. In Maurizio Sarri's densely populated midfield, however, he must be beyond special.
One thing was clear when the transfer window closed. Not everyone was going to get enough playing time in Maurizio Sarri's team.
Juve spent money with reckless abandon this summer. They lavished €188.5 million [Transfermarkt] on their defence alone, bringing in Matthijs de Ligt, Danilo, Luca Pellegrini, Merih Demiral and Cristian Romero. You'd expect that department to be crowded as well but loan deals involving Pellegrini, Romero combined with Luca Marrone's sale to create the required room.
In midfield, Juve didn't spend a dime on new players yet still managed to make two marquee signings from Ligue 1 and the Premier League. Even so, Adrien Rabiot and Aaron Ramsey's arrival caused a major imbalance in the Bianconeri squad. It would have been worse if Stefano Sturaro wasn't sold to Genoa.
Seven players will jostle for regular slots in Juventus' midfield until December, at the very least. These are stars whose name roll off the tongue. Emre Can. Miralem Pjanic. Sami Khedira. Blaise Matuidi. Rodrigo Bentancur. And now Rabiot and Ramsey.
Desperation drives Juve's abandon but will an oversized midfield aid or hinder their Champions League ambitions?
Can is the first casualty of the Sarri's midfield cattle call. The former Liverpool man has been cut from the Old Lady's Champions League squad. Much to the German's chagrin, he won't get a chance to feature in Europe's premier club competition until the group stage is done this year. He's already voiced his displeasure with Sarri's nonchalance in delivering the news and his own failure to leave the club before the window closed.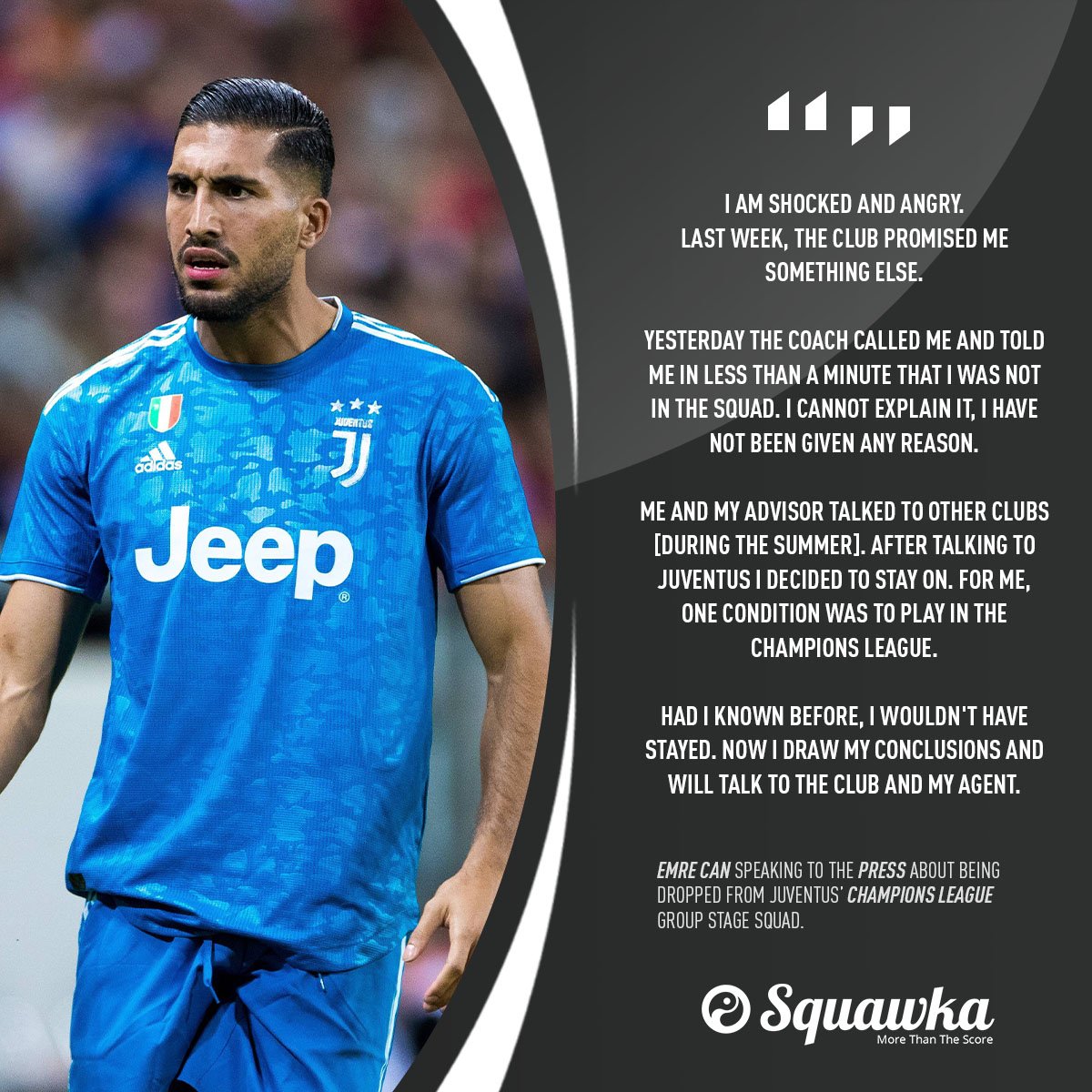 "It makes me angry and upset."
Emre Can had some strong words after being dropped from Juventus' Champions League group stage squad.
https://t.co/l7FY0AB285
While the 25-year-old wallows in self-pity, several among his competition in the squad can't be too sure of their participation either. Regular warhorses like Matuidi, Khedira and Pjanic are not guaranteed playing time. The new boys also want to play.
Sarri is only just recovering from his battle against pneumonia, no thanks to his habit of chain-smoking. The 60-year-old's next problem will be headaches stemming from the choices he must make in midfield.
With the quality available in the final third including Cristiano Ronaldo, Paulo Dybala, Gonzalo Higuain, Mario Mandzukic and Federico Bernardeschi, Sarri is bound to play a 4-3-3 system. That leaves three places available for the horde in the centre of the park. To add to the crowding, Dybala won't mind dropping into that midfield if it means he features more regularly. You can just see Sarri rubbing his temples.
With volatile personalities like Rabiot, Can and Khedira, it'll be an uphill struggle for Sarri to keep everyone happy. The question is, how patient will the bench warmers be when January rolls around?
On the one hand, Sarri has a frightening squad, deep enough to withstand a rash of injuries and still deliver domestic and European glory. On the other, if enough players aren't satisfied with their lot, Sarri could lose the dressing room quicker than any of his predecessors.
The Champions League group stage kicks off in mid-September with Juventus travelling to the Wanda Metropolitano to face an Atletico Madrid side looking for a cold dish of revenge for last season's quarterfinal ouster. Will Sarri's squad stand behind him or leave him twisting in the hot Spanish wind?