Should Mohamed Elneny leave Arsenal?
In August, Mohamed Elneny began his third consecutive season on the periphery of Arsenal's squad. He faces a battle to earn his place in midfield.
In 2016/17, the Mohamed Elneny made only five Premier League starts between August and December, in 2017/18 just three. This season, the Egyptian international was in Unai Emery's starting lineup once.
The 26-year-old appeared 79 times in all competitions since joining Arsenal from FC Basel in January 2016 but he's never been a regular in the Premier League. Now in his fourth season at the Emirates, his busiest campaign comprised 14 league appearances from a possible 38. He's featured more prominently in Europe and domestic cups.
Grim Situation
Before the season began, Arsenal reportedly considered selling him to fund new recruits. Despite working his way into the starting XI in Arsene Wenger's final campaign, a future under new boss Emery was doubtful.
Elneny's first league outing came four months into the new season. Granit Xhaka, Aaron Ramsey, Lucas Torreira and teenager Matteo Guendouzi all took priority in the manager's reckoning. Elneny's problem is his versatility. A jack of all trades, master of none, he fails to offer any qualities that one teammate or another has in greater abundance. Torreira is more combative. Xhaka is a better passer. Ramsey is more creative. The teenager Guendouzi is surprisingly more composed in possession.
The Egyptian international went unused on Emery's bench 12 times in the Premier League this season. He was forced to watch from the team's skybox on six other occasions albeit two were missed through injury.
After a rare outing against Burnley, he was a spectator in Arsenal's 1-1 draw with Brighton & Hove Albion on Boxing Day. With only 59 minutes of top-flight football to his name this season, Elneny may be considering his future at the Emirates Stadium.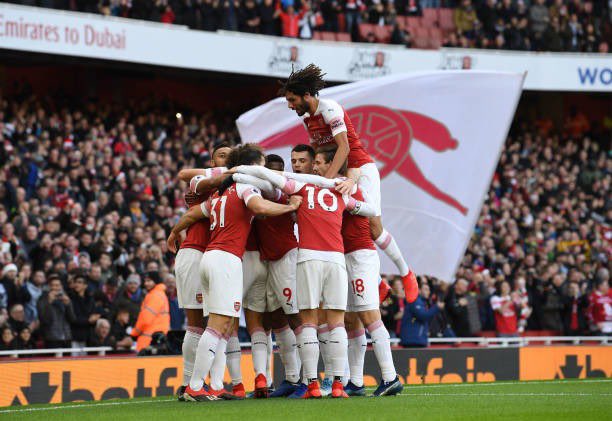 Trapped?
Elneny defied the odds previously, coming back in from the cold to be an important player in the midfield, but it's hard to see him getting many opportunities under Emery unless injuries strike. It's unknown if Arsenal will sell Aaron Ramsey and others to trim their midfield options mid-season. If so, Elneny might be kept through the summer.
By no means a bad player, the 26-year-old just doesn't bring much to the table that Arsenal can't get elsewhere. Elneny is sure to have suitors in January but a sale may not be sanctioned unless a replacement is secured. With Elneny still making the bench on a frequent basis, he's clearly an able backup option.
Arsenal handed him a contract extension until 2022 in March. Now, he's confined to a minimal role under the new manager. Given Elneny has four more years on his contract, Arsenal can resist lowball offers and wait to sell him next summer for a better return. In the interim, Emery will use him sparingly.
Wary of risk, he is less dynamic on the ball than the players Emery prefers. This deep into his career, his approach is unlikely to change. Regardless, he's been a good servant to the club. Fans will hold him in high regard whatever the future brings.