Will Samuel Umtiti leave Barcelona for Manchester United?
For a player who made his competitive debut for Lyon in Ligue 1 just six years ago, Samuel Umtiti has made swift progress. The 24-year-old became a regular for Lyon in the 2012/13 season. He also won the 2013 FIFA U-20 World Cup with France. Three seasons on and he was named the "Best Player of the Season" for 2015/16 by the club's fans, ahead of Alexandre Lacazette. He also helped France reach the UEFA Euro 2016 final. Barcelona came calling at the end of the 2015/16 season.
Umtiti moved to Barcelona for a fee of around €25 million and has been outstanding for the La Liga giants. He won the 2017/17 Copa del Rey in his first season with the club. As an established central defence pairing with Gerard Pique, he has helped Barcelona maintain an unbeaten run in La Liga this term. The Catalan giants' defensive solidity is seen in the fact that the club has conceded the least amount of goals this season in Europe's top five leagues.
The French international has been the subject of transfer speculations in recent weeks. He is rumoured to be on Manchester United's wanted list. Jose Mourinho's Red Devils team has largely underperformed this term, and the Portuguese is expected to make significant changes to his squad in the summer. With Manchester City flying high above the competition in the league this season, the self-proclaimed Special One is under pressure to perform better at Old Trafford. Building a solid defence will be an ideal starting point for re-engineering the squad.
The football world has become fast paced and always evolving. Today, club loyalty has become secondary to a player's interests. Most players would put their own personal gain ahead of the club's as can be seen in recent times. Should Umtiti stay at Barcelona?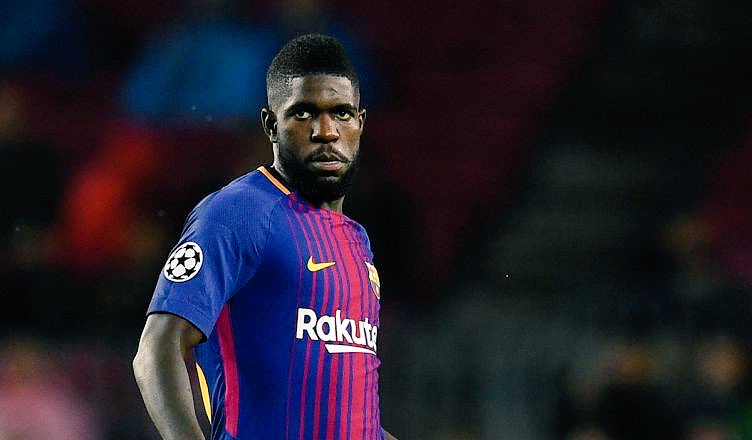 Umtiti: "Manchester United? I'm aware that other clubs are interested in me. But I'm focused on Barça."
https://t.co/YnA2KvWkIu
Umtiti's release clause is currently at €60million. But despite the fact that the price is relatively low for his quality and in the post-Neymar transfer market, his commitment comes right through in his words. Yes, we've seen players who come out one day to say there are committed or focused on their club and are gone the next transfer window. But it is always difficult to separate a player from a club that has been the player's dream destination from childhood. Except of course the club does not want him as was the case with Pierre-Emerick Aubameyang's much-publicised dream to play for Real Madrid.
It seems highly unlikely for the 24-year-old central defender to leave Barcelona for Manchester United. And that's for several reasons, one of which has already been indicated; he loves Barcelona. Man United under Mourinho has not done itself any good as well. For a club that is currently the biggest brand in world football, performances on the pitch have been abysmal. Mourinho has been playing a brand of football that is regressive, to say the least. At the moment, United cannot compete with the top teams in Europe; just look at their performances against Sevilla...
The likes of Barcelona, Real Madrid, Bayern Munich, and neighbours Manchester City are well ahead of United. Having become used to winning trophies at Barcelona, Umtiti may not want to risk coming to England where he would either be fighting with the manager one day or warming the bench on another while the manager carries out one of those player rotations that are meant only to stroke his own ego as "the boss".
All in all, life is just too good in Barcelona to risk his own further development and winning more trophies with a move to Manchester. Just tripling his wages as suggested by some may not be enough to sway the Frenchman's decision as Barcelona will definitely review his contract forward in the near future. The club has learnt its lesson from the Neymar saga and will not want a repeat with another prized possession.