Will the ghost of Arsene Wenger haunt Wembley for the EFL Cup final?
Arsene Wenger knows better than anyone that Pep Guardiola's kind words don't sway dissatisfied employers.
Managers tend to last at clubs about as long as the average Hollywood marriage although exceptions exist in both cases. Kurt Russell and Goldie Hawn have been together since 1983 despite eschewing any nuptials. Denzel Washington married Pauletta Washington in 1983 after trying to get her to say yes for six years. Sir Alex Ferguson took the managerial reins at Manchester United in 1986. Despite relinquishing them in 2013, the crusty old Scot remains in love with the club. Most relationships in Tinseltown and the beautiful game fail to last even three years, however, as Billy Bob Thornton and Jose Mourinho, divorced five and six times respectively, continue to prove.
Arsene Wenger straddled the line. He stuck with Arsenal from 1996 to 2018 but for the better part of a decade, Gooners prayed for a split. #WengerOut may hold the record for most enduring viral hashtag. During that interminable stretch, the Frenchman looked down his notoriously long nose at the thought of investing heavily in any star but most especially defenders. In the end, his inflexibility cost him and the club.
The ability to adapt or at least keep things interesting is the secret to any long union. While Fergie's United always featured wingers, swift counterattacks and service into the box, he always had a new wrinkle when fortune threw up obstacles in his path. It served him well, with over thirty trophies in his 26-year spell.
When other clubs figured out Wenger, he refused to adjust. Arsenal went from United's chief Premier League rival to a side happy to finish in the top four while collecting FA Cups then finally one that no longer competed for a Champions League place.
In his first season at Manchester City, Pep Guardiola appeared set to follow the long-time Gunners boss' descending footsteps. Famously, he declared he wouldn't change how he played despite Premier League clubs big and small picking him off after a brilliant start to his debut campaign. To back him, the club spent more than any other on the planet.
The investment paid off with a centurion season in goals and points, the EFL Cup and a Premier League title. In 2018/19, the quadruple many anticipated last term remains alive. The first step is to defeat Chelsea in today's EFL Cup final at Wembley.
That said, Guardiola remains in just his third season at the Etihad. While his side are world beaters at the moment, sustainability isn't guaranteed. Both Ferguson and Wenger's prolonged success owed a great deal to their commitment to bringing young players into the squad. Pep neglects his academy players. Already, Jadon Sancho and Brahim Diaz abandon him for better prospects [or so the latter believes] elsewhere. Local boy Phil Foden sticks it out but sees little Premier League action despite his productivity in the cup competitions.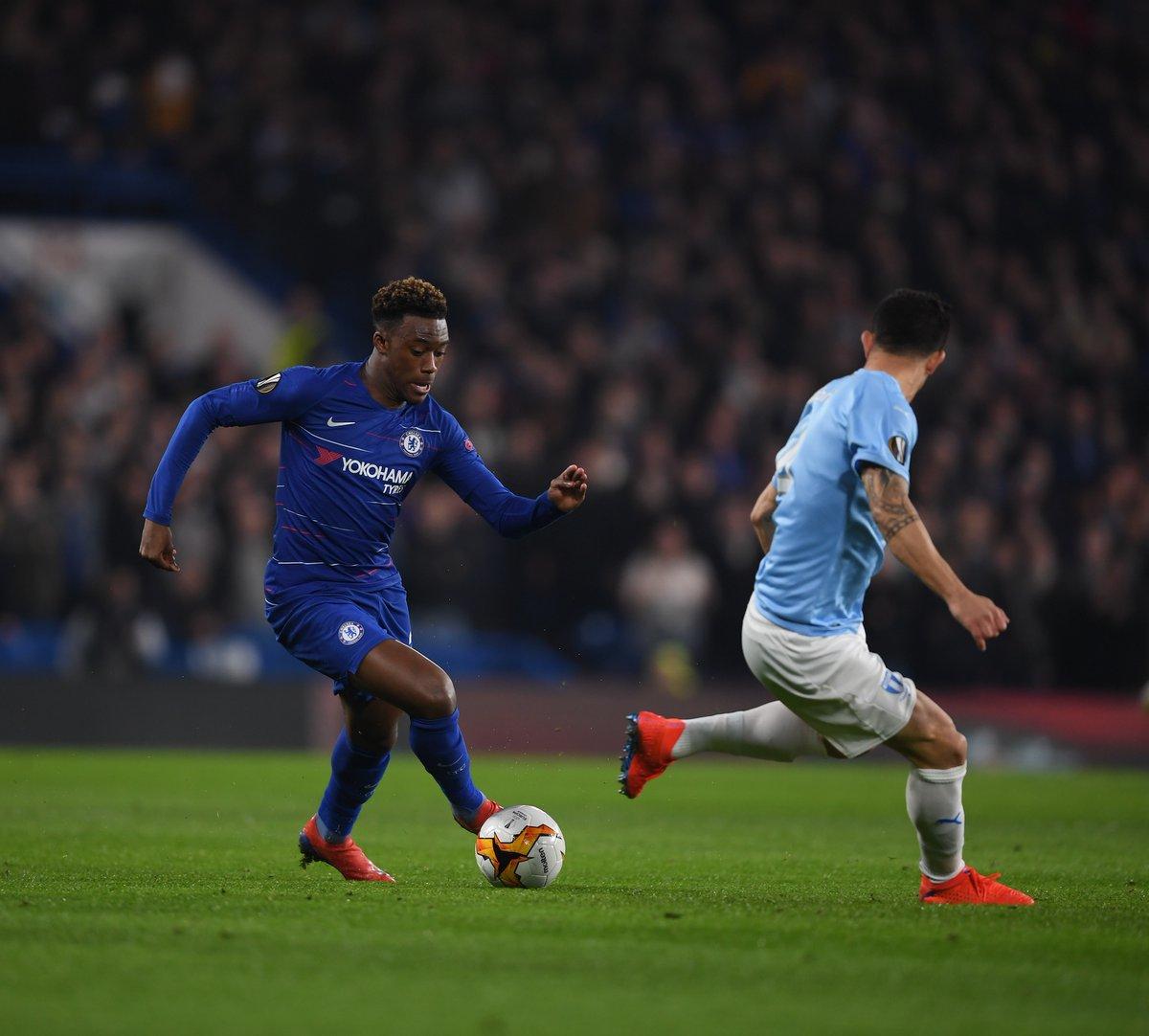 Chelsea' new superstar Hudson-Odoi
But will he start in the EFL Cup final 2019
Chelsea vs Man City on Sunday
https://t.co/KlNXMC4GpH
The Catalan's opposite number tonight at Wembley is Chelsea's Maurizio Sarri. The Italian's obstinacy reveals itself in a different manner. While he too is reluctant to deploy young stars such as Callum Hudson-Odoi and Ethan Ampadu, that is not his policy. He merely follows club tradition. In part, Sarri's particular stubborn streak echoes Guardiola's refusal to change his tactics despite increasingly consistent setbacks. The unique aspect is his insistence on playing his midfielders in non-traditional positions. Playmaker Jorginho inhabits the defensive midfield while the defensive midfielder widely considered the world's best is shunted out to the wing. Sarri explained that his d-mid must move the ball forward quickly, a trait N'Golo Kante doesn't possess.
In the Champions League second leg against Malmo, a tune-up for the EFL Cup not for the Swedish club's talent but their sky-blue kit, Chelsea struggled through a first half in which Uwe Rosler's side pressed high to great success. Mateo Kovacic was neutralised in the Jorginho role, So was the man himself when he came on in the second half. Malmo lacks City's quality, however, and Chelsea's fitness. When they tired in the second half, the Blues asserted themselves. Despite Sarri's rationale, that assertion came through Kante.
The Frenchman repeatedly popped up in a central position to dispossess Malmo players. On 55 minutes, he anticipated a pass, streaked forward to intercept, kept going at top speed, then slipped the ball over to Willian on his left as Malmo defenders vainly attempted to cover too much open space. Willian, in turn, delivered a perfect low cross for Olivier Giroud to tap in. So much for Kante's inability to move the ball forward quickly.
Victory in both legs against the Swedes mark the Blues' only wins and goals in the past fortnight. Last weekend, Manchester United pressed and counterattacked them to a 2-0 victory at Stamford Bridge. Two Sundays ago, a trip to the Etihad resulted in a 6-0 humiliation at City's hands.
Despite his counterpart disappearing into the tunnel without shaking the victorious manager's hand, Pep Guardiola had nothing but nice things to say about Maurizio Sarri. He empathised with his first-season struggles, recalling his own. As he did with Arsene Wenger last February, following successive 3-0 beatings, he commended Sarri for refusing to compromise his philosophy.
That eerily familiar speech, given after the first can of whup-ass had been opened, did little to soften the effects from the second. One suspects it will be as meaningless this time around, too. Sarri is not in the same situation as Pep or Wenger. He is not employed by a club that fiercely backs its manager. Rather, he is at one that prefers to chew them up and spit them out. When Guardiola graciously repeats his endorsement of Maurizio Sarri in the wake of another hiding, the Italian will hear the words in an oddly nasal French accent as if they were delivered by the ghost of Arsene Wenger.
I don't think his hand will tremble as he lights his next cigarette. Italians tend to be fatalistic. But he will know divorce is imminent.