Winners and losers from the 2017 Confederations Cup
The Confederations Cup is over and Germany somehow managed to shut us all by strolling to the title. It was an interesting two weeks of non-stop football imbued with loads of excitement, innovations and heartbreak.

There were some densely-packed stories on the show, but who came out of it best? And who struggled? That said, we take a look at the biggest winners and losers from the showpiece.


Winners
Joachim Low


Quick rewind to when Joachim Low made public his squad for the Confederations Cup. He was severely criticised by all and sundry for picking an utterly inexperienced and experimental bunch. To the extent World Cup organising committee chief, Alexey Sorokin claimed the "heart of a football fan bleeds" at the 57-year-old's team. Yet, the gaffer held his ground, stating "they will see the stars next summer". About one month later, it's an entirely different tale. So can we still refer to Low's team as an understrength one?


Claudio Bravo


If there's one non-German player who profited the most from the trip to Russia, then it is Chile goalkeeper, Claudio Bravo. The Manchester shot-stopper will certainly still wear a big grin in spite of his country's bitter defeat in the final. Obviously cos he succeeded in proving to everyone (including himself) that he isn't finished after all. Bravo showed up at the Confeds after an absolutely ruinous one year in the Premier League. But remarkably he produced unbelievable performances, especially in the semi-final against Portugal, stopping three penalties. He now returns to City with the tournament's Golden Gloves award, and his confidence restored.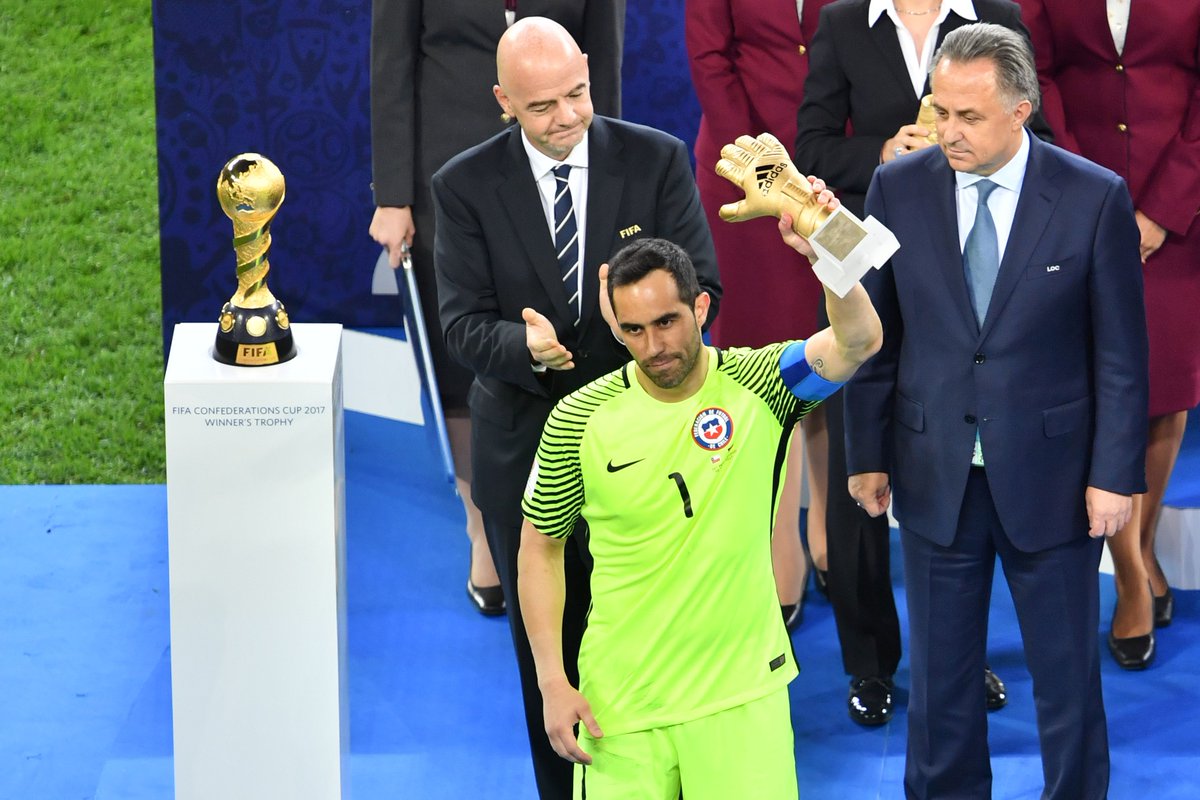 Claudio Bravo at the 2017 Confederations Cup:
3 games 🏃
3 penalty saves 👐
2 goals conceded 😞
1 clean sheet ⛔️
Golden Glove winner.
https://t.co/2B7wiGAmbs
German football


It's been one hell of a week for German football. Call it the Deutschland summer and you won't be wrong. On Friday, their depleted U21 team, which lost a huge chunk of its stars to the Confeds, upset the odds to clinch the European Championship. And barely 48 hours after, their second string seniors, did likewise. This all but confirms the country's status as the best in the world flaunting an incredible conveyor belt of talent. It presents Low with a concrete selection headache as they prepare to return for next summer's World Cup.


Losers
Russia


Despite running a well-organised tournament, a 2-0 victory over New Zealand is all Russia's international team had to show during an otherwise uninspiring Confederations Cup. Add to that, an ongoing FIFA investigation into allegations that the country's entire squad were doping at the 2014 World Cup and next year's showpiece global event cannot come quickly enough for the host nation.


VAR confusion
The decision to trial FIFA's
video assistant referee technology
at the Confederations Cup led to many confusing moments. Giving a referee the option to consult a VAR official or look at footage of an incident on a screen on the side of the pitch makes perfect sense, in theory. Yet, the long delays and the inability of supporters or TV viewers to understand what's going on during the decision-making process has instead, painted VAR in a negative light.
Mexico
Yet again, Mexico finds themselves struggling to catch up with the rest of the world. 
El Tri
 is in the same place as always - out after the first round of a knockout tournament. Yes, they've dominated their region and also been exceptional at youth levels. However, Juan Carlos Osorio's team seems to stutter at the big stage. Their inability to exceed the quarter-finals of the World Cup says it all. After narrowly making the semis in Russia, 
El Tri
 was brought back to reality by a young German team; suggesting they will need to do more, that is if they manage to return to Russia.