Why is the Women's World Cup still sweating misogyny?
Marta has now scored more goals than Miroslav Klose at World Cups and some people are not very happy about it.
Comparison is the thief of joy, at least that's what Theodore Roosevelt said. Can this theory be applied to women's football?
Should we compare the Lionesses with Southgate's Lions? Or the current World Cup with the men's edition in Russia a year ago?
Some say that comparison is futile, that the games are too different, too disparate in terms of where they are in their evolution. Others disagree, claiming comparisons with the men's game are a compliment to how far women's football has come in the last couple of decades.
Football is football, regardless of whom plays it. The rules are the same, the aims are the same, hell, even the goals are the same size!
Comparison, therefore, is a natural human impulse. Whether rightly or wrongly.
Marta, the greatest ever female footballer, finds herself in the eye of the storm after breaking the record for the most goals ever scored in World Cups.
The Brazilian's position at the top of the pile was pointed out, rather clumsily, by some media outlets which seemed determined to make clear the fact that she had usurped Miroslav Klose as the player with most goals in international football's crowning glory.
Some people took exception to this. They said that it was preposterous to put Marta in the same category as players like Klose and Ronaldo given that the women's game is, in their opinion, an inferior product. But the fact remains that Marta has scored more goals in World Cups than Klose et al. That cannot be disputed.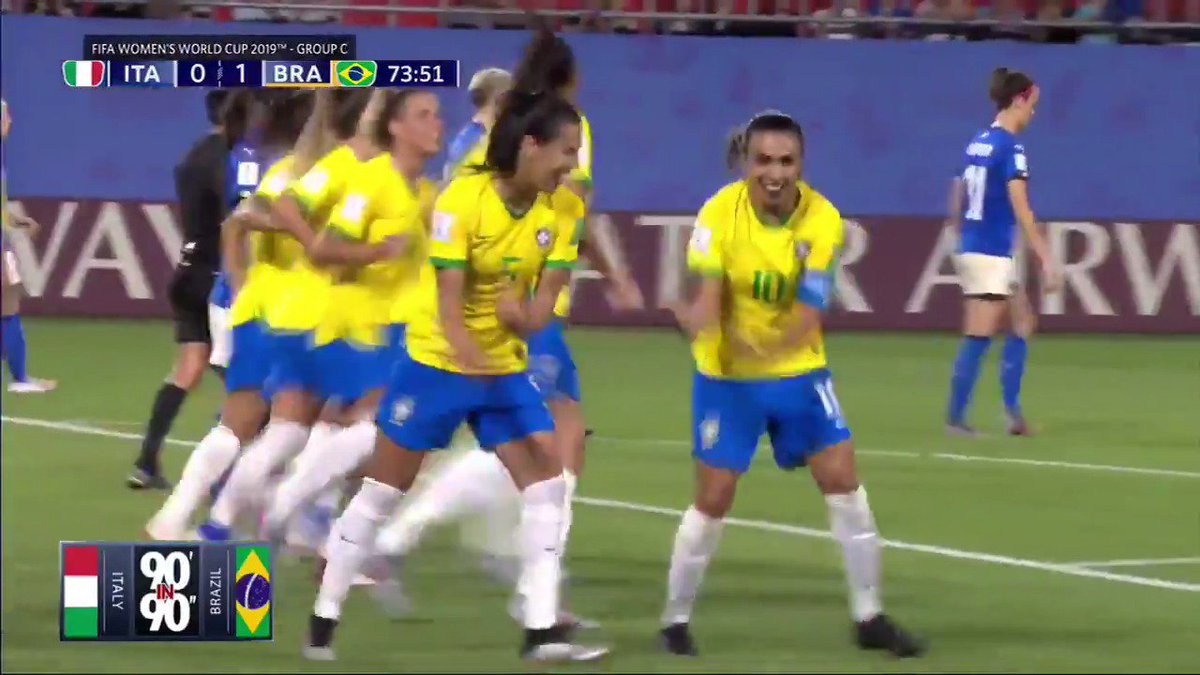 Marta's goal breaks the all-time World Cup scoring record as Brazil defeat Italy and both teams advance to the knockout stage.
Watch the full game highlights in our 90' in 90" highlights ⬇️
https://t.co/urlaIqEBaJ
The perception is that women's football is not as fast-paced, that the players lack power. Certainly, there are unavoidable biological advantages that men possess; namely higher levels of testosterone and muscle mass that could support this theory. If you want to lament women, who work for a pittance compared to their pampered male counterparts, for their biological make up you're an idiot.
But aside from the physical aspect, some of the accusations which are thrown at the standard of the women's game are born of little more than misogyny and are disingenuous in the extreme.
But this kind of idiocy is commonplace, especially during the World Cup which has done so much to upset large swathes of the male population.
It is evident when they cry about having the game shoved down their throats. It is evident whenever someone tweets a video of a player miss-controlling the ball or scuffing a goal-kick. It is evident in the sexism that is passed off as 'banter'. It is evident in the derisive tones that accompany discussions about the gender pay gap.
It's everywhere. These people don't want women to play football. Not because they are bad at it - but because it offends them. It irks them deep down inside.
They despise the fact that it is taking up even a small fraction of the footballing conversation. They treat it as a joke as a way of discrediting it.
In a way the reluctance to engage with the women's game is understandable, it is a foreign concept for many of us who have become addicted to the men's game. Force fed on a seven-days-a-week diet of football, football, football. It would be like eating McDonald's every day and then swapping Big Macs for carrot sticks; it takes time to get used to.
What I cannot understand is the vitriol. What harm is it doing if women play football? If you don't like it, don't watch it. Is it necessary to bad-mouth it, to discredit it?
This attitude is infuriating and the people who cling on to it lack the introspective capabilities to questions their dubious morals.
Perhaps they see women's increased interest in football as an encroachment on their masculinity. An insecurity so depressing that it is very much at home in modern society.
The good news is that the women's game is growing. In many ways it is a purer and more palatable spectacle than the men's game which is riddled with the kind of diving and cheating that you see much, much less of when the women take to the field.
But we are not yet at a stage where a nation will rise as one and waste an overpriced pint of warm lager when Beth Mead scores a goal.
It will take time, investment, promotion and a collective broadening of minds to get anywhere close to that stage.
The least we can do right now is just let them play.
Theodore Roosevelt claimed that comparison is the thief of joy, in terms of the Women's World Cup, though, that is simply not true.
Misogyny is the only thing preventing people from enjoying this particular tournament.