Does a Tammy Abraham/Declan Rice swap make sense?
Would the two England internationals trading clubs resolve or create new problems for Chelsea and West Ham?
Declan Rice and Tammy Abraham have been widely linked with a move away from their current clubs. Rice is heavily desired by Chelsea who are reportedly willing to raise funds to move for an elite striker by selling Abraham.
Might the pair be in line to swap clubs? Interest in such an arrangement has been expressed by both camps. Whether anything will occur in this transfer window remains uncertain but the onus seems to be on Chelsea to make their moves before anything concrete can be finalised.
Rice to the Blues is the prevalent factor given how frequently he was linked with the club when Frank Lampard was at the helm. Apparently, Thomas Tuchel is also a fan. Rice's friendship with Mason Mount and his previous affiliation with Chelsea as a young academy player help to push a 'Rice returning home' narrative. Furthermore, it's being reported the Hammers' midfielder will reject a third contract offer from the East London club, opening the door to a potential exchange, be it as one deal or two separate transactions.
It's fair to anticipate the typical 'English Tax' on a Rice transfer, with nothing less than a £60 million bid expected to even attract West Ham's attention. The latest hearsay suggests he asked to be alerted to any big offers.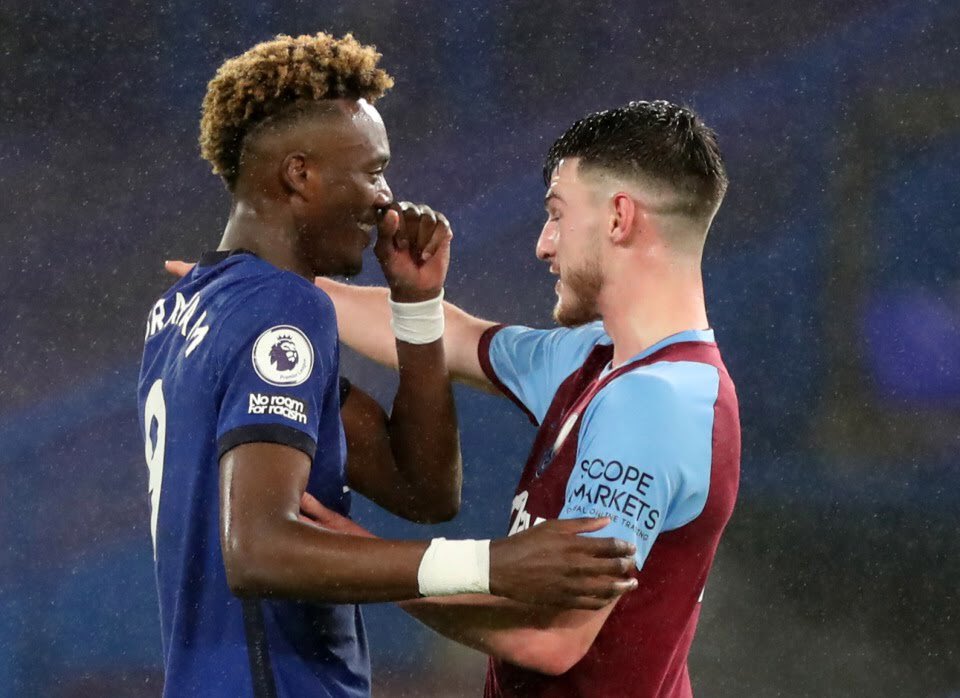 Marina Granovskaia wants to bring Declan Rice to Chelsea this summer and is willing to offer striker Tammy Abraham in return to tempt West Ham.
However, despite the Hammers keen on signing Abraham they will not sell Rice for less than £100m.
[@TheAthleticUK] #
WHUFC
#
COYI
https://t.co/IWdRNYpdlm
With Billy Gilmour moved to Norwich, albeit on a loan deal, Chelsea is shortchanged in central midfield. Mateo Kovacic, N'Golo Kante and Jorginho could use a fourth for whist when training is rained out. Rice's particular talents [on the ptich] would present a new dilemma for opponents as well.
For West Ham's part, David Moyes won't enjoy losing one of his main men. The Hammers' brilliant season put them in Europe and Rice is key to their system. The man himself might wish to stay another year and see how far the Iron can progress. If he is the team player everyone suggests, it may not sit well with him to jump ship after working so hard to earn this opportunity for the group.
At Stamford Bridge, Abraham has been adversely affected by Kai Havertz and Tino Werner's arrival. The club paid big money for its German attacking reinforcements and, with a German coach, the pair are likely to remain ahead of Abraham in the pecking order regardless of form.
With fashion icon Olivier Giroud adding Milan to Paris and London as a base of football operations, it's natural to question the wisdom in selling Abraham. The pair scored 23 goals between them last season. Abraham's departure would also leave Chelsea without a recognised number nine. Neither Havertz nor Werner are natural centre forwards.
On the other hand, West Ham's line was led by 31-year-old Michail Antonio, another unnatural striker despite his moderate success in the role at the London Stadium. In acquiring Abraham, the Blues' loss would be the Hammers' gain. Given his experience, desire to be the man and scoring record wherever he's played, Tammy would slot straight into the West Ham side. In addition, the cold, hard reality is that selling him is necessary if Chelsea are to afford Erling Haaland, Robert Lewandowski, Romelu Lukaku or the next world-class target man over which Roman Abramovich begins to obsess.
While it would be poor business for Chelsea to lose both Giroud and Abraham without a ready-made signing waiting in the wings, with an injury to Werner or Havertz leaving the Blues critically understaffed in what is likely to be a very long, taxing season, the Rice move seems inevitable for Chelsea given Kante and Jorginho's advancing years. Factor in that Abraham appears destined to build his career elsewhere and represents value for the club only in terms of the cash his sale will generate and we've come full circle. Money talks and it's Chelsea who hold the cards.