Would Bernardo Silva be a good fit for FC Barcelona?
What can the Portuguese bring to Camp Nou?
The Premier League gave us an interesting title race last season. Liverpool and Manchester City took the battle down to the wire. Pep Guardiola's men came out on top with 98 points, edging out the men from Merseyside by just a point to make it back-to-back triumphs. They also became the first side to add the Carabao Cup, FA Cup and Community Shield to their league success in one season. Winning all four domestic trophies on offer.
Bernardo Silva was amongst the standout performers in the team. The Portuguese had his best season yet in the blue jersey, with several important displays. He finished the term with seven goals and eight assists from 36 league appearances. Many tipped Bernardo to claim the PFA Player of the Year award; although Liverpool's Virgil Van Dijk had something to say about that...
Manchester City have fallen off that standard this season. Guardiola's men are enduring a slow outing in the Premier League. Despite occupying the second position on the table with 57 points from 27 games, they are far behind Liverpool, who sit at the summit with 79 points from 28 matches. To make matters worse, the Citizens were recently handed a two-year ban by UEFA. That would keep them away from all competitions hosted by the organization within the said timeframe.
The failure to participate in the Champions League would surely have consequences, especially given its class of superstars. Many believe it could lead to a player exodus. It appears they are guessing it right. Bernardo is already raising rumours following a comment he made last week. The attacker revealed that he would love to play alongside Barcelona icon, Lionel Messi. That has received media traction aplenty within the past few days.
Truly, it is normal that every player would cherish sharing the dressing room with the Argentine playmaker. However, football fans do not see it from that perspective. They see Silva's comment as a 'come get me' plea to Barca, given City's situation right now. Should the Blaugrana take it seriously, would he be a good fit for the club?
Obviously, it wouldn't be far-fetched to say the Portuguese is amongst the most talented players in Europe at the moment. He's been constantly making headlines since he came to limelight at AS Monaco in 2017. Silva is a football artist. He has a great vision, intelligent movement, and an excellent dribbling skill that enables him to easily get past opposition defenders in one-on-one situations. The complete attacking package.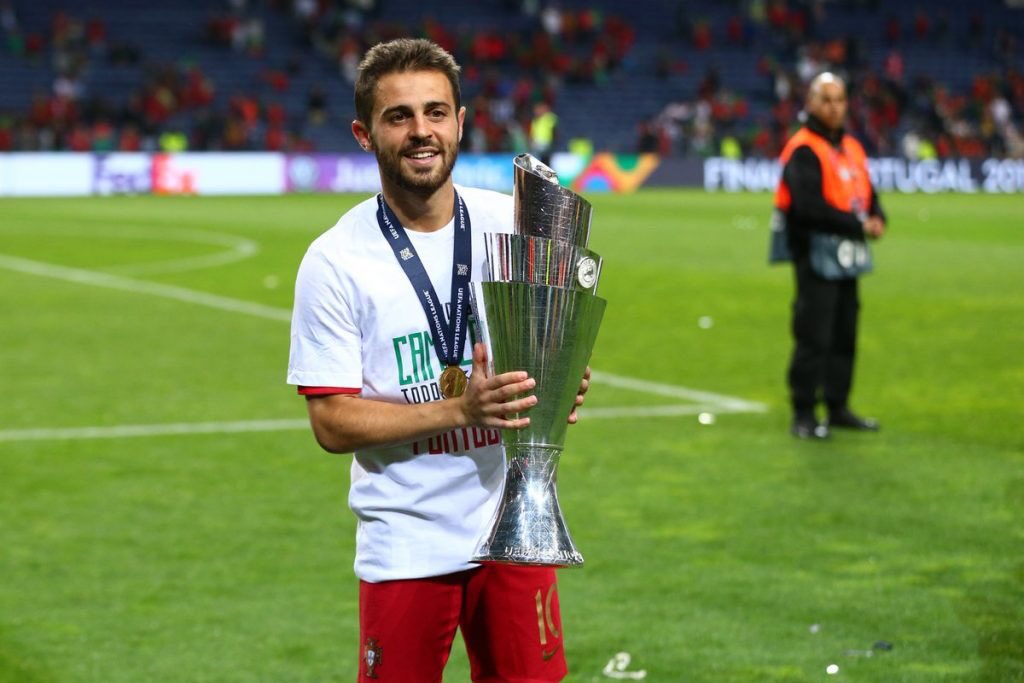 Bernardo Silva "I would like to play with Messi and be able to say that I have played with the two best players in the world (Ronaldo and Messi). It's a complicated matter, but I would like to play in La Liga at some point in my career." [cadena ser]
https://t.co/7rNbpXnChU
Standing at 1.73 meters (5ft 8), Silva's low centre of gravity means that he can change direction quickly and operate in tight spaces. The Portuguese is a very hardworking and technical player. He is comfortable in possession, has a decent touch and also resists all sorts of presses. Having thrived with Barca's tiki-taka system under Guardiola, he is already familiar with how the Catalan giants like to play.
Silva can be deployed in the middle or in the attack. He's switched between playing as a central midfielder, attacking midfielder, a supporting striker and on the flanks throughout his career. Wherever he is placed among these positions, Barca would gain a lot from the 25-year-old. Versatility is key.
Over the year, Bernardo's shown that he can score goals, particularly when his team needs them the most. He's bagged seven times for Manchester City in all competitions this season. In 2018/19, he finished with 13. Quique Setien's men need to relieve Messi and start finding goals from other areas. Having a player who can help lift part of the goalscoring burden would undoubtedly be a major help.
One big problem Barcelona's midfield has at the moment is the lack of creativity. Slotting Bernardo in the middle would go a long way to fix that. The Portuguese already has eight assists this season. That is way beyond the records of Barca's current midfielders: Arthur Melo (4), Frenkie de Jong (4) and Sergio Busquets (2). His seven goals also compete with the trio: Arthur (4), de Jong (2) and Busquets (2).
Besides goals and creativity, Silva's versatility would also be the major plus. He would give Setien plenty of options and also help raise the depth of the squad. Barca would surely gain a lot if they have the 25-year-old in their team. It remains to be seen whether these rumours will come to fruition this summer...