Loss to Borussia Dortmund exposes chemistry issues for Bayern Munich
One may not like the cold but both Karl-Heinz Rummenigge and Uli Hoeness are taking heat for Bayern's slow start.
A particularly good weekend for derbies capped off with the affair in Manchester. Understandably, a contest between two clubs that have spent nearly a billion pounds sterling combined for their current managers [Manchester City/Pep Guardiola/£541.9, Manchester United/Jose Mourinho/£419.5] will attract attention. The Manchester Derby was about two wealthy teams, one attempting to consolidate their newfound power, the other trying to reassert theirs. Twenty-four hours earlier, a similar match on a smaller financial scale took place in the Bundesliga although another theme crashed the party in North Rhine-Westphalia.
Bayern Munich are the six-time defending Bundesliga champions. Borussia Dortmund won the two campaigns preceding die Roten's run. Economics dictate Bayern's domestic dominance. Typically, a new club rises up to challenge their authority for a season or two then fades. BVB is the first squad in some time to hang tough. They met on Saturday at the Westfalenstadion.
Coming into the match, Dortmund topped the table. Bayern's season began slowly under new boss Niko Kovac. Recent results suggested the squad was adapting to the new boss. A win in the enemy's fortress would bring them within a point of the leaders.
First-half play hinted at such an outcome. Dortmund's attack, their bread-and-butter, was stale. Bayern appeared more likely to score. Eventually, they did through a Robert Lewandowski header. A one-goal lead at the half can't be considered safe against BVB, but early developments in the second half foretold two possibilities.
Dortmund manager Lucien Favre showed confidence in his precocious English winger Jadon Sancho, electing not to substitute him at half-time despite an error-strewn opening 45. The youngster responded, his runs with and without the ball exposing Bayern's ageing defenders Javi Martinez and Mats Hummels. Marco Reus joined the fun, beating a high line and drawing a penalty from late-arriving goal-keeper Manuel Neuer. He converted to level terms.
Two minutes later, however, Bayern were leading once more. Another deep run on the flank followed by a precise cross led to a second Lewandowski header. Favre's defence was as suspect as Kovac's but due to their youthful inexperience rather than weary old legs.
If Bayern could keep the contest a battle of wits, the three points would be theirs. If it became about pace and endurance, they were in trouble.
They were in trouble.
Dortmund did not let up the pressure. Reus and Sancho continued to run at the champions' flagging defence. In addition, Sancho frustrated his counterpart, Franck Ribery. The Frenchman gives away 17 years to the youngster. Repeatedly late with tackles, he eventually drew yellow for tripping the England international.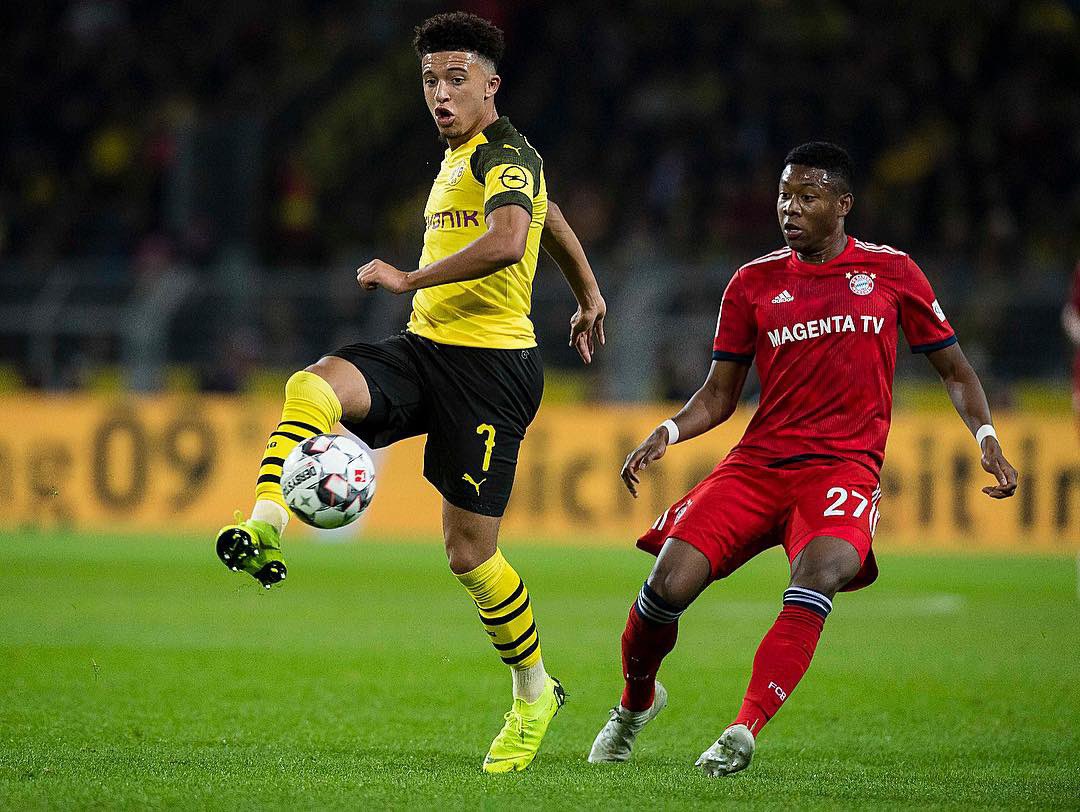 What a match 🤯. No words for this team 🔥🔥, what a group of boys we have. Came up against a tough Bayern Munich team and found the win. So happy we could do it for our fans 💛@BVB #
JS7
https://t.co/Hfw9gEebFV
Twice Reus had Neuer scrambling around his net but missed from inside the six-yard box. Ironically, he converted a difficult first-touch volley across his body, down inside the far post to level again. Lucien Favre threw Paco Alcacer into the fray. The Barcelona loanee broke through on a counter and calmly lofted the ball over Neuer's trailing leg.
In the 94th minute, Lewandowski appeared to rescue a draw with a deft flick from a set piece but was correctly ruled offside. Dortmund ran out the clock as they had run Bayern out of the game, claiming a 3-2 win and a seven-point advantage over the holders in the table.
More than once in the second half, the broadcast feed settled on the two Bayern playing legends and power brokers sitting together in the stands. Uli Hoeness was his old-school self, open coat, open shirt, open scarf, scowling in an entirely closed-mind manner at events on the pitch Beside him, the more contemporary Karl-Heinz Rummenigge was bundled tightly against the late autumn chill, texting away madly on his smartphone.
Rummenigge has remarked in the past that the two alternate managerial hires to avoid conflict when their polarised philosophies clash. Niko Kovac is a Croatian born in Berlin whose career's taken place mainly in the Bundesliga, save for a stretch with Red Bull Salzburg as he transitioned from playing to coaching, then a spell with the Croatian international team. Young [47] and familiar with the league, his CV suggests he appealed to both Hoeness and Rummenigge. The question is why, after acting so quickly to hire him last spring, they didn't support him in the summer market?
Their sole expenditure was €10 million on MLS product Alphonso Davies. Leon Goretzka arrived on a free. Renato Sanchez returned after a disappointing loan spell at Swansea. By comparison, every Premier League club save inactive Tottenham outspent Bayern. Given the Bavarians are among the top ten wealthiest clubs in the world, Kovac might have expected further backing.
Instead, 35-year-old Ribery was exposed on the left flank. Javi Martinez and Boateng [both 30], along with Hummels [30 in December] were all run ragged. Kovac can't substitute four men. BT Sport's commentators were aghast when he lifted Thomas Mueller while down a goal, but the playmaker was limping when he departed, then clutching his right calf on the bench. Chasing younger men in bright yellow shirts all evening will cramp up ageing muscles.
Is James Rodriguez trying to escape Munich?
To be fair to Bayern's brain trust, the club is dealing with extensive injuries. Arjen Robben, another greybeard at 34, is out with a knee problem. Younger stars Thiago Alcantara [27] and Kingsley Coman [22] were unavailable.
On the other hand, it's questionable whether playmaker James Rodriguez [27] is on the bench for the third time in four games due to a calf issue [reports said he was fit for this match] or because Kovac doesn't rate him? The Colombian has struggled this season with just three goals and an assist in eight Bundesliga appearances. Frustrated, he allegedly clashed with a team official . The manager at least started the young Leon Goretzka in his place.
James is approaching the end of a two-year loan at the Allianz Arena but Real Madrid is in similar straits to Bayern. They may wish to recall the player rather than let the German side exercise their option to buy.
Borussia Dortmund's been in transition in recent campaigns. Even so, they've adhered to their youth policy while hiring a more experienced manager. Bayern's process is the opposite. Hoeness and Ruminegge are stretching their veterans while hoping a young manager will settle and develop their budding stars. Thiago's absence and the possible conflict with Rodriguez leave die Roten bereft of players in the middle ground, not married to the old regime but with enough experience to lead.
It's possible Kovac is just disciplining Rodriguez. The Croatian may be banking on James and Thiago's return linking old and new in the team, energising the squad. The second half may bring a charge up the table from the Bavarians. Or it may all go tits up. So far, the powers that be advocate patience with Niko Kovac. The question is how long they can afford to back their man before panicking?