Is Zidane's return to Real Madrid bad news for this World Cup hero?
Real Madrid announced former manager Zinedine Zidane's return last week. He delivered an immediate impact. A comfortable home win against relegation-threatened Celta Vigo made it seem like the 46-year-old never left.
His return also signifies the beginning of the end for some players. The Frenchman promised massive changes over the summer. The Merengues lie third in La Liga. Surprise Champions League hopefuls Getafe don't threaten from eight points behind although Atletico Madrid, only two points above, can be caught. Barcelona cannot with their 12-point advantage. While surpassing their city rivals offers fans minor appeasement for a lost season, Zizou dedicated the final ten matches in the session to auditions. Squad members young and old can showcase their quality and convince him they belong in the 2019/20 squad. Or not.
Early decisions indicate which way Zidane leans. Francisco Alcaron returned to the squad after his long exile under Santiago Solari to score against Celta. While Isco made headlines, the manager made another key change that, if permanent, could have a seismic effect on one player's career.
Thibaut Courtois signed with Real Madrid to be with his family. Both Julen Lopetegui and Solari favoured the former Chelsea goalkeeper over Keylor Navas. The rumour mill had the Costa Rican packing for a summer exit. The 6' 6" Belgian struggled to settle, however. He and the defence in front of him shipped enough goals for Jeff Bezos to inquire after their availability. Navas was solid between the sticks for Zidane's second debut, keeping a clean sheet.
Zizou promised auditions and goalkeepers are easiest to rotate without disrupting the squad, especially when both possess world-class ability. If the legendary midfielder settles on Navas as his number one, Courtois will face some difficult decisions.
When he left Atletico Madrid after three years on loan to be the number one at Chelsea, the Belgian refused to compete for a place. Blues legend Peter Cech was sold to Arsenal to leave no doubt who was number one. Unfortunately for Courtois, his life partner didn't enjoy London. She returned to Madrid with their child while pregnant with a second. With Jan Oblak firmly installed in the Atleti goal following his departure, Courtois had one option to join her. He forced a move to Real Madrid.
Upon arriving, he expected to be given the starting role just as he had at Chelsea. His Golden Glove performance in the World Cup suggested he rated such consideration. However, it isn't just managers who must believe in a goalkeeper. Real Madrid players were loyal to Navas, the man who settled the turmoil following Iker Casillas' departure. To date, Courtois hasn't won them over, which goes a long way towards explaining his poor performances. Respect and trust are vital to a strong working relationship between a goalkeeper and defenders.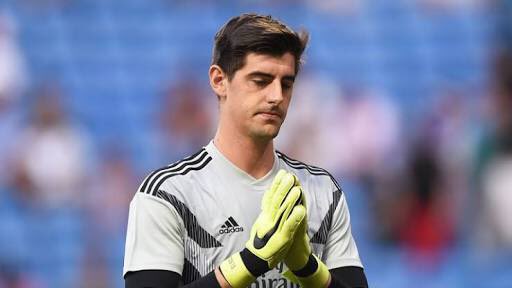 OK Dario | Real Madrid players believe they did not have to sign a goalkeeper last year they love Keylor Navas. Courtois isn't liked by the Real Madrid squad, ZERO.
https://t.co/M7Mguva30X
The rumour mill grinds endlessly. With Courtois unfavoured and Manchester United and Spain number one David de Gea still to put pen to paper on a contract extension, reports emerge that Real sought a blockbuster goalkeeping swap with the Red Devils only for Courtois to nix the deal. If his partner wasn't too enamoured with London, Manchester would hardly impress.
It is still early days in Zidane's second reign. Both keepers can expect opportunities to make their case. To pry De Gea loose, the Spanish giants hounded United for an even longer period than they pursued Cristiano Ronaldo. Of course, they didn't stop until they had their future all-time scorer and likely won't quit until De Gea wear their badge on his chest.
If anyone is more concerned about the situation than Courtois, it must be Belgian manager Roberto Martinez. If his number one's form continues to head south faster than Capistrano swallows, there is no Navas or De Gea in reserve.
Wolfsburg's Koen Casteels and Strasbourg's Matz Sels provide Courtois' cover. Both play for mid-table sides who give them experience in goaltending by the seat of their pants. Marshalling a world-class defence isn't listed on either's CV.
Martinez no longer calls up Liverpool backup Simon Mignolet, the 31-year-old's Merseyside opportunities curtailed severely by Alisson Becker. The former Everton and Wigan boss prefers a keeper who logs regular minutes. If Courtois chooses family over guaranteed football, the Spaniard will find himself in a serious pickle.
If things continue as they've begun under Zidane, it won't be long before both Martinez and Courtois turn to the media. Zizou won't be moved. His concern is Real Madrid, not Belgium, nor Courtois if the keeper can't meet his standard.
Madrid is known for spoiling their top players. When Jose Mourinho attempted to gain control in the dressing room, Sergio Ramos and Iker Casillas openly opposed him. Mourinho was the first to leave. Ramos continues wearing the armband even after openly admitting he flaunted UEFA rules by intentionally drawing a suspension that made it all the easier for Ajax to end Real's three-year Champions League reign. Rather than rid themselves of an insubordinate captain, the club hired the one manager who could control him. Courtois isn't considered Merengue through and through. Zidane will find it even easier to control him.
If just to get some peace from the rabid Spanish press, the Frenchman will point out that he is happy for the player to move if he so chooses. Finding another club won't be difficult for Courtois if he is willing to leave Madrid. If not, he must lie in a bed of his own making.